If you enjoy running, you may have entertained the idea of running a marathon. If you aren't a runner, you might think a marathon is just running for a certain distance until you cross a finish line. So what is a marathon really?
A marathon is simply a long-distance race measuring in at 26.22 miles or 42.195 kilometers. A marathon is mostly run on a road or series of roads that are set ahead of time. Marathons fall into two distinct categories marathon qualifier races and plain vanilla marathon races.
Marathon History
The first idea of a marathon came from Ancient Greece, as most modern ideas come from. In the summer of 490 BC, a Greek messenger by the name of Philippides had to run from the Battle of Marathon to Athens to announce their victory.
He didn't stop running until he got to Athens and exclaimed his news. He then dropped dead on the spot. Lesson learned, don't do that.
Now, this could or could not be factual, but it makes a great historical background story. In slightly more modern times, in 1896, a man named Michel Breal recounted this fun historical story. He wanted this type of event in the first official Olympic Games, which were also held in Athens.
The first winner of the first Olympic Marathon was a man named Spyridon Louis with a time of 2 hours 58 minutes and 50 seconds.
How Long Is A Marathon?
The marathon length has fluctuated over time and wasn't always a set distance. The first three marathons for Olympic Games were 40 kilometers (24.85 miles) and 40.26 kilometers (24.85 miles). This was the distance from Marathon to Athens, where it was said that Philippides made his run.
From 1906 until 1924 the marathon distance changed pretty much every Olympic Games.
What Is a Half-Marathon?
Well, then what's a half-marathon? Yes, exactly, it's half of a marathon. Kept it pretty simple with the definition with this one. A half-marathon is 21.1 kilometers or 13.1 miles.
These have become more popular over the last 20 years or so. You still have to train for these, but not nearly as intensively as for a full marathon.
Check out a detailed post on what a half marathon is?
Why Is A Marathon 26.22 Miles?
In 1924 it was decided that the distance would be set at 42.195 kilometers or 26.22 miles. This distance was picked by the International Amateur Athletic Federation. They decided to go with the length of the marathon that ran in the 1908 Olympics.
This was because in 1908 the Olympics were held in London. Queen Alexandra wanted the race to be a bit longer so it could include the royal family being able to watch from their windows at Windsor Castle. So the race starting at the castle and finishing at the Olympic stadium was 26.22 miles. It happened to stick.
Why Would You Run a Marathon?
After reading how long and far marathons are, you might ask why people even want to run a marathon. There are a few universal reasons why people run marathons.
Marathons are an athletic challenge
If someone is a regular runner, they have thought about or have completed some kind of marathon. You do all of that running anyway, so why not try your hand at a marathon? Pushing yourself is the mentality of an athlete.
Marathons raise money for a good cause
These days there are endless causes that need to raise money. Marathons are a great way to do that. Of course, these kinds of marathons are more for your average person because you can most likely walk them. Some of them even give you alcohol at the end. Motivation enough for some.
From charities to cancer research, running (or walking) in a marathon to raise awareness or money for a good cause is worth a few hours of your time.
Marathons help you get in shape
If you are starting out a workout routine and want to make yourself stick to it, training for something is a good way to get yourself on track. Knowing that you are going to have to get in front of people that will see how heavily you are breathing can be a great motivator.
You will strengthen not only your body but your heart and your mind. You can reduce stress and anxiety and become overall happier. The training alone will really help you physically and mentally. The determination and stamina you will gain while training will help you in other aspects of your life too.
Marathon completions are on people's bucket lists
Surprisingly, many individuals want to run or simply complete a marathon. It's a huge feat and accomplishment and it ranks high on many bucket lists.
The main reason I ran a marathon was that it was on my bucket list. More and more new runners are signing up, training, and running marathons every year.
There are many reasons that people run, check out other reasons here: why people run?
The Fastest Marathon Runners
Okay so who are some of the fastest people to run a marathon? Let's look.
The fastest marathon time ever was by a man named Eliud Kipchoge, from Kenya, who ran the Berlin Marathon in 2018 with a time of 2 hours 1 minute and 39 seconds.
He technically beat his own record time and was the first person ever to finish a marathon in under 2 hours, having a time of 1 hour 59 minutes and 40 seconds. Because this marathon was pretty heavily planned and engineered, there is controversy surrounding this run, and it has not been counted as an official marathon run.
The fastest female marathon runner is now Brigid Kosgei, from Kenya, with a time of 2 hours 14 minutes, and 4 seconds. She beat the previous fastest female marathon runner, Britain's Paula Radcliffe, who had held the record at a time of 2 hours 15 minutes and 25 seconds for 16 years. Kosgei made her mark as the fastest female marathon runner in the Chicago Marathon in 2019.
How Long Does It Take To Run A Marathon?
Average marathon finish times have declined by almost 4:00 minutes from 2008 to 2018. The main reason why there has been a decline in overall marathon finish times is due to the larger amount of new and novices marathon racing participants. For other cool facts and stats about the time, it takes to run a marathon, check out:
How long does it take to run a marathon?
What Is the Marathon World Record?
Unfortunately, Eliud's under 2 hour marathon time does not count, but his other time does. During Eliud, fastest marathon race he used multiple teams of pacers that aren't allowed for official world record attempts. Eliud Kipchoge's 2018 time of 2 hours 1 minute and 39 seconds is now the record to beat. The previous record was held by fellow Kenyan runner Dennis Kipruto Kimetto by a staggering 1 minute and 18 seconds.
Are There Health Risks?
Yes, of course. Just like any sport or trying anything new that you are not used to, there are risks. Even when you are at the top of your game, you always run the risk of an injury. Professional athletes get hurt all of the time. In practice or in the game, sports pose a risk.
You also run the risk of increased health risks as well. Too much running without proper training can cause inflammation and swelling. The high-intensity increase in blood flow can raise your chances of having a heart attack while running. If you have a family history or are running at an older age, you should talk to your doctor before training for a marathon.
It sounds crazy, but marathon running can even make you gain weight. If you run too much you can raise your cortisol levels. This can lower your immune system, make you more tired, and cause you to gain weight (why did you gain weight during marathon training – check out this article?)
These can all happen if you decide to all of a sudden go from never running to trying to run multiple marathons in a short amount of time. Pace yourself, train properly, and gradually work your way up to a marathon to avoid these complications.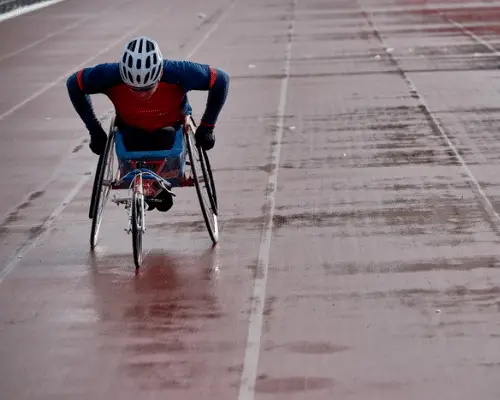 Are There Wheelchair Marathons?
Obviously, wheelchairs for a marathon are not going to be in your standard everyday wheelchairs. But yes, there are definitely wheelchair marathons. There are different divisions for wheelchair racing. Depending on whether you have a spinal injury or are an amputee will determine which classification you can race in.
The very first wheelchair marathon took place in Ohio in 1974 and was won by Bob Hall with a time of 2 hours 54 minutes. In 1975 the Boston Marathon added a wheelchair division. The fastest record for the Boston Marathon wheelchair division is held by Josh Cassidy with a time of 1 hour 18 minutes and 25 seconds.
New York actually did not have a wheelchair marathon division until as recently as 2000. Now it is one of the top 6 wheelchair marathon sites. The others being the Chicago Marathon, the London Marathon, the Berlin Marathon, and the Tokyo Marathon.
Just Run It
Marathons have been around for a long time and they won't be going away. Though men were the only ones who could participate in any marathon until 1896, women have made their mark. Women like Katherine Switzer, who famously ran as the first female in the Boston Marathon in 1967, have shown that no one should be told no who wants to compete.
Training for and participating in marathons can be great, not only for your own health but to help causes as well. Whatever your reasons for wanting to run a marathon, the benefits are evident.
Knowing a bit of history about marathons can help you better understand how to prepare for one. You may not (or maybe you do one day) beat a record, but being able to say you completed one is something that can give you a sense of pride.
Marathon Motivation
Are you looking for motivation to run a marathon? Here are 20 reasons why you should run a marathon.
 To sign up for a FREE half marathon training schedule, log sheet, and pace predictor CLICK HERE.

 Connect with me: