Completing a race is no small feat. Whether it's your first half-marathon or your tenth triathlon, the accomplishment is commendable. Thus, you will likely receive a medal or trophy symbolizing your exciting triumph. So, why not show these medals off in the way they deserve?
If you're looking for a great way to display your accolades, you've come to the right place. We've compiled a list of the top 9 best race medal display ideas for runners, bicyclists, or triathletes. There are so many unique and interesting ways to display your impressive medals so read on for some product details and ideas. 
1. The Medal Hanger with an Image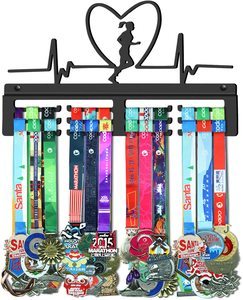 Check Price On Amazon
We've all seen the standard medal hangers and hooks. Though they allow the medals to shine on their own, they don't provide any interesting aesthetic or context explaining where the medal came from. An image medal hanger solves this problem. These medal displays have small hooks which are attached to an image of your choosing.
For instance, this unique medal hanger (Amazon Link) features a female runner with a heart outline, each with a hook for a medal. The imageboard can be any size you like whether that takes up half the wall or just a tiny corner. And the image can be just about anything. If you're a runner, you could choose a picture of a running route or the bird's eye view of a race with several different runners. For the triathlete, you could have an image of a lake, a running course, and a bicycle route, with hooks for hanging your medals over the corresponding image. The more unique the picture, the better!
In terms of material, the image header could be made of nearly anything. Some companies allow you to print out a plaque-like image with hooks that can be fastened onto it. While others are made of metal, steel, or clay. You can choose the perfect image and material for the room you plan on putting the medal hanger in so you can display your medals exactly how you wish.
2. The Medal and Bib Display
Hook Medal Holder With Map Display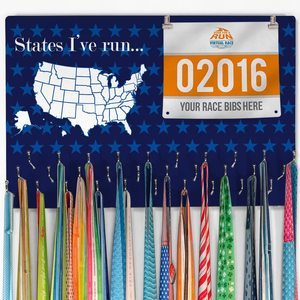 Check Price On Amazon
This medal display option (Amazon Link) is for the creative athlete because it calls for one to dust off their arts and crafts skills. These medal display frames come with a simple hanger for the medals as well as a map with an empty interior. The idea is to fill in the map with the bibs from your various races.
The bib can correspond with the area in which the race took place if you have been lucky enough to run in several different regions. Or you can simply fill any map shape whether it's the entire country, just one state, or even the specific region where the race took place. The great part about this is the bigger the map, the more bibs you can fit. So, if you're an avid athlete with many bibs, you can include them all and even overlap them artistically so they create somewhat of a collage. Then you can use the classic medal hanger to hang the medals above the bib-filled map. This display is unique, artistic and a great focal point for any room you add it to.
And if you're not the athlete but you're looking for a great gift for one, this is an excellent gift that will undoubtedly be appreciated by the runner, cyclist, or triathlete in your life!
Simple Medal Holder With Bib Display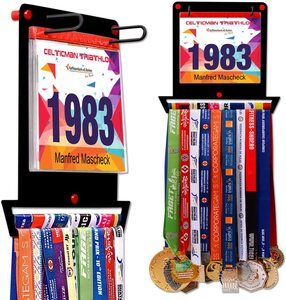 Check Price on Amazon
Another alternative is the simplistic medal holder with a race bib display. This display comes with 20 vinyl protective sleeves to keep your race bibs secure. If you run out of vinyl sleeves then simply double up the race bibs front and back to give you 40 spots. If you need more race bib protective vinyl sleeves you can get them here (Amazon Link). They come in packs of 12, 24, 48, and 96 protective sheets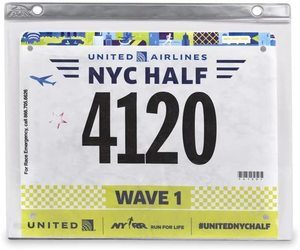 Check Price on Amazon
3. Swim Bike Run Medals Display Hanger for Triathletes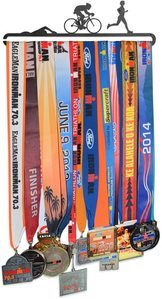 Check Price on Amazon
Well, this one is evidently best for the triathlete. Of course, you can fill just one or two of the headings as well! The Swim Bike Run Medal Display Hanger is a unique way to humbly show off your various medals and organize them according to which sport they represent for triathlon events.
These display hangers come in, what seems like, an endless number of designs. Firstly, these unique hangers are made in several different materials so you can pick the right one for your home, office, gym, or wherever you plan on hanging up your accolades. The wrought iron hanger is great for any room and seems fitting for a triathlete's medals considering how strong and tough the material is! However, the stainless-steel hanger is another excellent option that fits well if you plan on displaying your medals around the kitchen area which has other stainless steel accents.
In terms of the words "Swim, Bike, Run", there is also some selection involved. For instance, this image design hanger (Amazon Link) features the three sports, each represented by a figurine or silhouette of an athlete doing the specific sport. While others simply have the words "swim", "bike", and "run" in various fonts. Or if you can't decide which option you prefer, you can even get both as with this sleek hanger which has both the images of the athletes swimming, biking, and running as well as the text above each. Needless to say, there are several options to show off your triathlon memorabilia!
4. The Simple Medal Frame
Check Price On Amazon
This medal display option is ideal for the beginner with just one or two medals to display. Of all the options, this minimalist medal hanger (Amazon Link) is the least expensive out of all the options. These frames come with an insert that allows you to fasten your medal so it stays in the right position within the frame. They have a glass cover as any frame for a picture does. You can select from a wide variety of frame materials, colors, and shapes. For instance, some medals come in rectangles with two spots next to each other. One for the medal, itself and the other for your bib, a map of the route, or perhaps a picture of you completing the race. While others come in simple squares with black wooden frames so that the medal is the focal point. The choice is up to you.
The simple medal frame is perfect for minimalist homes or offices and is somewhat subtler than the other options in that you won't see the medal until you are looking directly at the frame. Finally, the simple medal frame is a sure-fire way to keep your medal polished and intact considering it is safe behind a glass sheet.
5. The Medal Hanger with a Comment
Check Price On Amazon
Of course, we cannot neglect the medal hangers featuring quotes, comments, expressions, and even some with cheeky jokes! For instance, this medal hanger (Amazon Link) has the header, "I Run These Towns." If you enjoy the odd phrase featured throughout your place, then why not add one to your medal display? In terms of cheeky jokes, you can find medal hangers that have phrases to the tune of, "first we run, then we drink". These can be a great way to remove the formality that sometimes accompanies medal display hangers. These say "we're accomplished but not ostentatious" which is a perfect way to do it!
6. The Display Case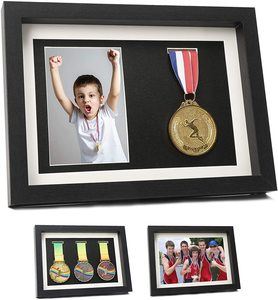 Check Price On Amazon
Now, medals aren't trophies but that doesn't mean they can't be displayed as such! A glass display case is an excellent way to show off your medals and include some memorabilia alongside them.
These cases come in all sorts of shapes and sizes and can be fastened to walls or meant to be placed on shelves. You can buy different stands to put within them, so your medals stay hanging or lay on specially-made boards so that they are presented well. You can put them next to framed pictures of yourself completing the race, maps of the route you ran, swam, or biked, and perhaps even your bib or another piece of memorabilia from the day. Display cases are a sleek and traditional way to show one's medals and they fit well in any space.
Looking for other great gift ideas for runners, check out these reviews put together by me:
Best Earbuds For Runners That Don't Fall Out When You Run
Garmin Forerunner 245 Smartwatch Review
Cross-Training Stationary Bikes For Runners
Best Overall Running Smartwatch for half and full marathon runners
7. The Medal Display With Trophy Shelf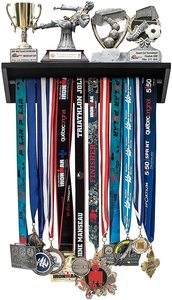 Check Price On Amazon
Our final unique way to showcase your athletic accolades is by displaying your medals just like all of the other display methods above. The one bonus feature of this particular medal display (Amazon Link) method is that you get to place trophies above the actual medals. This is a great feature for the multisport enthusiast who wants to display all that they are! If you have several athletes' medals to display, you can even add the respective names to these inscriptions.
8. The Rotating Medal Display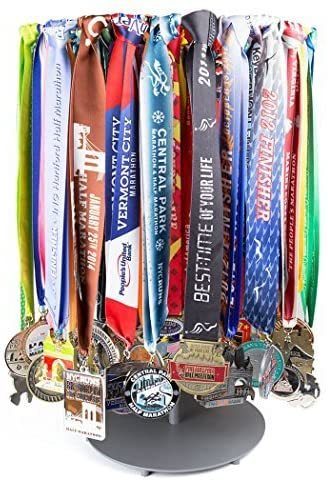 Check Price on Amazon
This medal display option is ideal for the medal collector. Of all the options, this maximum medal hanger (Amazon Link) is one of the most expensive out of all the options. This stand has the ability to sit on your desk or table anywhere you would like. The one drawback is that you can not hang this display on the wall. This medal display is as sturdy as they make them however you need to evenly distribute your medals as you obtain them or you could possibly get a slight tilting due to too much weight on one side. This would be my go-to choice for the massive medal enthusiasts.
9. The Medal Display With PR Record Holder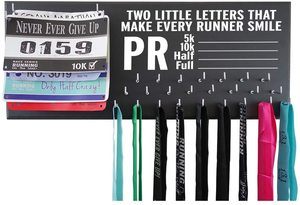 Check Price On Amazon
Final Thoughts
Racing is an incredibly rewarding experience so why not display the medals in a unique and interesting fashion. If you found this list interesting, please share it as you never know who may be trying to show off their medals too!
Check Out My Other Reviews:
Best Running Watch For Half Marathon/Marathon Racing
Best Earbuds For Running That Won't Fall Out
Best Cross-Training Stationary Bikes For Runners
Best Hydration\Water Packs For Runners
10 Running Gadgets You Can't Live Without!
Best Energy Gels For Half Marathons
Best Race Medal Display Ideas For Runners
Best Waterproof Running Jackets
Best Ways To Carry Your Phone While You Run
Best Protein Recovery Drinks For Runners
Best Mineral-Based Sunscreens For Runners
Best Ankle Braces For Peroneal Tendonitis
Best Ultramarathon Running Shoe
 To sign up for a FREE half marathon training schedule, log sheet, and pace predictor CLICK HERE.

 Connect with me:
References
https://www.runnerswall.co.uk/product-category/triathlon/
https://www.etsy.com/uk/market/cycling_medal_holder