Many runners use pickle juice, but Why Do Runners Drink Pickle Juice?
Runners have used pickle juice for many years, believing that it is the perfect remedy for leg cramps. Many athletes use pickle juice, including footballers, swimmers, and triathletes.
What is pickle juice made out of?
Pickle juice is an uncomplicated drink to make, and companies often make the drink with four ingredients: salt, water, vinegar, and dill. Sometimes cucumbers are added to the juice. The benefit of using cucumbers is the natural probiotic called lactobacillus bacteria that lives inside the cucumber's skin, and it helps the fermentation process.  It is possible to attempt to make your own pickle juice at home using those ingredients.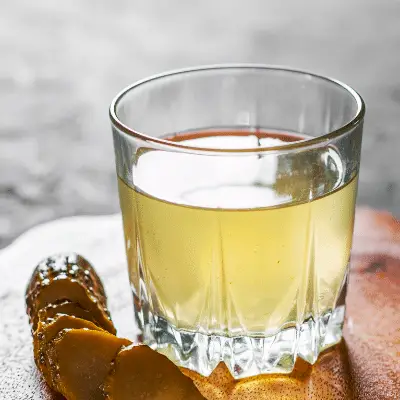 Benefits to drinking pickle juice
There are so many fantastic health benefits from drinking pickle juice, including health benefits and athletes' benefits. Here are some of the main benefits.
It relieves muscular cramps.
When a long and hard run makes a runner dehydrated, the runner is far more likely to suffer from cramps. But if you drink pickle juice, runners have proven it removes your muscle cramps faster and more effectively.
Scientists believe that only ⅓ of a cup of pickle juice is enough to affect muscle cramps positively. That could be because the vinegar helps ease the pain faster due to stopping the nerve signals that make tired muscles cramp up.
Related: Why Do I Feel Tired After I Run (besides exerting energy)?
Drinking pickle juice helps you stay hydrated.
After a run, you might drink a nice cold glass of water, and you will often feel refreshed after it. However, if you're completing a long and strenuous run – such as a half-marathon – a glass of water might not be enough.
That's where pickle juice comes in handy because it contains sodium and potassium. If you're running in hot conditions, you'll likely lose a lot of sweat. Sodium is an electrolyte that you lose when you sweat. Also, potassium is an electrolyte and a mineral that you lose when you sweat.
Pickle juice will replenish your electrolytes and leave you feeling very refreshed. It is a fantastic feeling when you complete a hard run to replenish lost electrolytes, and you won't get that from water.
It is a fat-free recovery aid.
Often sports drinks such as Gatorade contain many calories but what if you're looking to lose some weight? Pickle juice is an excellent alternative because it is fat-free and low in calories.
For example, pickle juice is often between 0-100 calories per drink. In contrast, a Gatorade bottle can be up to 300 calories, which is almost a meal in itself. Furthermore, pickle juice contains zero fat and is generally very healthy.
It contains antioxidants
One of the most significant benefits of drinking pickle juice is the fact it contains antioxidants. And antioxidants help prevent the body from getting damaged by molecules called free radicals. Every runner gets exposed to free radicals; therefore, it is an excellent idea to have plenty of antioxidants in your diet.
Also, vitamin C and E help boost your immune system. It is essential to maintain a healthy immune system when you're training for a marathon or any endurance race type.
It can help to control blood sugar levels.
Research conducted by the Journal of Diabetes Research showed that consuming small amounts of vinegar can help regulate your blood sugar levels. That is very important if you have type 2 diabetes.
Having a well-regulated blood sugar level keeps you very healthy, and an unregulated blood sugar level can cause heart damage and kidney damage.
How long does it take for pickle juice to stop leg cramps?
On average, it takes around 1.5 minutes after you've drunk pickle juice to remove leg cramps. That is 45 percent quicker than when you drink nothing after a run, so there are clear benefits from drinking pickle juice and removing cramps.
Alternatives to pickle juice for leg cramps?
Coconut water
Coconut water is an excellent alternative for pickle juice if you're looking to remove leg cramps. It contains a mixture of sodium, calcium, potassium, and magnesium. Also, a 237 ml cup of coconut water only has 46 calories, great for weight loss or staying lean.
Milk
Milk is a fantastic drink for replacing electrolytes after a run. However, after a tough long run, you might not be able to stomach the milk. It contains sodium, calcium, potassium, and a healthy mixture of carbs and protein. Also, you can get low-fat milk, which is great for staying lean or losing weight.
Watermelon water
Watermelon water is a superb option for replenishing electrolytes. One 237 ml cup of watermelon water provides around 6 percent of magnesium and potassium, with other electrolytes like calcium and phosphorus.
Electrolyte tablets
If you don't want to buy a drink with electrolytes, you can just have electrolyte tablets. They are a convenient, inexpensive, and easy way to make an electrolyte drink after a workout. Furthermore, the tablets contain sodium, potassium, magnesium, and calcium. Plus, they tend to be very low calorie and ideal for dieting because you can drink them with a normal bottle of water.
A sports drink
Easy electrolyte replacement drinks are Gatorade, Powerade, and Lucozade. These are all very high in carbs, electrolytes, and fluids. They definitely will make you feel refreshed after a hard run. Yet, these drinks are high in sugar, and they can be high in calories.
Smoothies
A post-workout smoothie is an excellent way to replenish your electrolytes. Many smoothies contain nuts, seeds, legumes, dairy products, vegetables, and fruits. However, for many athletes after a long run, a smoothie might be too heavy and a drink like a pickle juice or coconut water might be better.
Is dill pickle or sweet pickle better for leg cramps?
They are both excellent choices for replacing electrolytes, and it doesn't matter which one you use because they both do the job.
Do marathoners use pickle juice more often than non-long-distance runners?
Yes, marathon runners will use pickle juice more often than non-long-distance runners. The reason is that, after a short run, you're unlikely to lose much of your electrolytes. However, when you participate in a marathon, your body will be void of electrolytes, and pickle juice will work wonders (possibly moving the infamous "wall" further out). Plus, you might have leg cramps after running for 42 kilometers, and pickle juice will help to soothe this quickly.
Does pickle juice help with weight loss?
Pickle juice does help with weight loss because it is low in calories. There are alternatives to pickle juice – such as sports drinks – offering electrolyte replacement and leg cramps removal, but they are high in calories.
Furthermore, pickle juice contains a lot of vinegar, and scientists have proven that vinegar aids some people with weight loss.
Is pickle juice good for restless leg syndrome?
Yes, pickle juice is fantastic for removing restless leg syndrome. You'll find it controls the syndrome effectively, along with regulating diabetes, helping weight loss, and removing muscle cramps.
Spring Pickle Parade
So if you're wondering where I got my cheesy feature photo for this blog post… This is me, 2016, before I ran any long-distance races. In fact, when this picture was taken the longest distance I had run was a 5K (3.1 miles). Best Maid Pickles bottles pickles locally in the town where I reside. They are the core sponsor for the 5K/10K pickle run event.
If you're ever in my neck of the woods come and sign up for our local 5K pickle run event.
After the morning 5K pickle run there is normally a kid-friendly pickle parade (not this year because it's been canceled).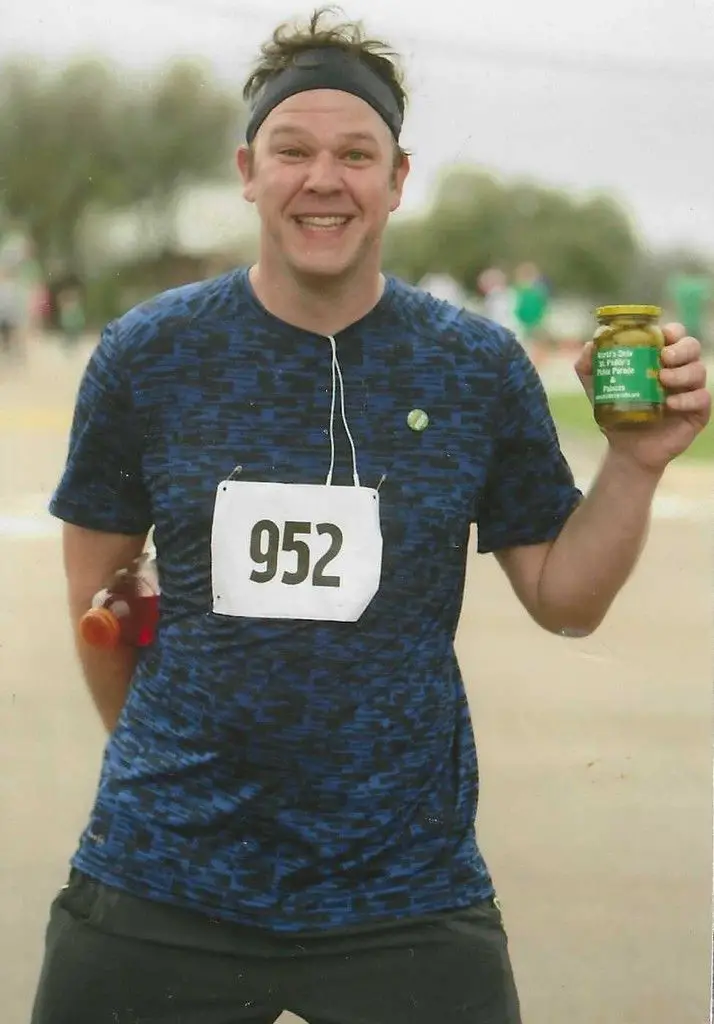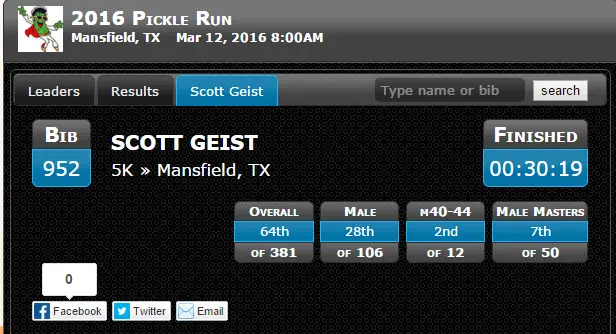 Best kinds of pickle juices to buy
Affiliate Disclosure: This post includes affiliate links for which, LERK Publishing, LLC., may make a small commission at no extra cost to you should you make a purchase.
Pickle Juice Extra Shot
Pickle Juice Shots (Amazon Link)
Van Holtens – Pickle Ice Freeze Pops
Van Holtens – Pickle Ice Freeze Pops (Amazon Link)
For those runners who like frozen pickle juice here, you go. Stick in the freezer and enjoy. These also can be enjoyed unfrozen since they are individually wrapped.
Best Maid Pickle Juice
Best Maid Pickle Juice (Amazon Link)
Best Maid Pickles are grown and processed locally in the town where I live.
 To sign up for a FREE half marathon training schedule, log sheet, and pace predictor CLICK HERE.

 Connect with me:
References
https://www.healthline.com/health/electrolytes-drinks#7.-Sports-drinks
https://www.picklejuice.com.au/blog/2018/6/25/7-benefits-of-pickle-juice