If you want data, features galore, and innovative integrations from your next smartwatch, the Garmin 6X Fenix Pro is going to be on your radar.
This ultra-rugged fitness smartwatch from Garmin has attempted to pack a whole host of tracking, monitoring, and metrics features into one hard-wearing package.
The Garmin Fenix Pro has everything you need for the great outdoors—we're talking sensors, topographical maps, points-of-interest navigation, respiration, hydration, and ClimbPro.
And if your next adventure doesn't extend past the city limits, Garmin still has you covered with sports apps, heart monitoring, Garmin Pay, and performance metrics.
Spend more time on the fairway than you care to admit? The Garmin 6X Fenix Pro also features CourseView for detailed analysis of more than 40,000 golf courses.
What I'm saying is: Garmin's latest smartwatch offering is heavy-duty—for features and for style. But how well does it deliver on its promises? In this review of the Garmin 6X Fenix Pro, we're finding out.
Garmin Fenix 6X Pro – my personal running/watch coach
First and foremost this is the watch that I personally wear and recommend. All screenshots in this review are of my person Garmin 6X Fenix Pro. The blue wristband is an after-market purchase. For some beginner runners, this watch is 100% overkill. Also, some new runners that might not need all of the extra bells and whistles might find peace with a more simplified running watch such as the Garmin 245 Music (my review) or the Fitbit Versa 3 (Amazon Link). I have a great summarized post of the top running watches for beginners, intermediates, and advanced runners. You can check out the review here: Best running GPS smartwatches.
My view on Apple watches. In my past life, I was a programmer for 20 years. I look at technology for the sake of technology and utilization. There are Windows haters, Apple haters, Android haters…and so on. I stay away from saying one brand/company is better than the other. The only reason why I use a Garmin and not an Apple watch (Amazon Link) is because I own an Android and I am a runner. However, I own several IPads, an older MacBook Pro laptop, and several windows and chrome book computers. It all comes down to how much utility (use) you get out of the product – not necessarily the brand. I can honestly say that the Garmin watch is a more durable watch than the FitBit Charge 3. My Fitbit Charge 3 quit working 9 months after purchasing the watch. My Garmin Forerunner 235 is still functioning to this day as my backup watch to my Garmin Fenix 6X Pro (Amazon Link).
Garmin 6X Fenix Pro Review: The Unboxing
Straight off the bat, you've got a few choices to make. Garmin doesn't offer a one-size-fits-all smartwatch in the 6X Fenix line. In fact, it offers three models and countless customizations.
So, what are your options?
You've got the Fenix 6X Pro, 6X Sapphire, or 6X Pro Solar.
Essentially, the X signifies the XL face of your Garmin Fenix smartwatch, while the Pro signifies the level of features on offer. Stick with the standard Pro option for rich features and everything you'd expect from the Garmin name.
Opt for the Sapphire if you want something a little more hard-wearing (and an even more hardcore glass), or the Solar for up to 3x longer-lasting battery life.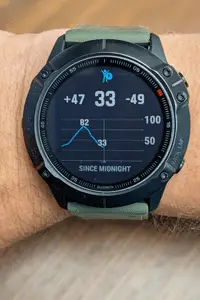 In the box, we've got:
The Garmin 6X Fenix Pro smartwatch in black-on-black
Charging/data transfer cable
User manual
Warranty documentation
The Specs
Integration with the Garmin Connect ecosystem
Water-resistant to 100 M
Training plans, workouts, running, and outdoor recreation monitoring
CourseView for up to 42,000 golf courses worldwide
Music storage (up to 2,000 songs)
Garmin Pay
Trackback to start, turn-by-turn navigation, preloaded maps
Barometric compass and altimeter
Blood oxygen and temperature
Hydration and respiration monitor
Stress monitor
Pedometer
Sleep monitor
Full-feature GPS mapping
Garmin 6X Fenix Pro Review: The Deep Dive
Garmin 6X Fenix Pro Review: What the Brand Says
A high-powered multisport GPS watch with the brand's largest-ever display—it's 36% larger than last season's Fenix model. Optional solar power to extend battery life and ensure you're covered for even the longest off-track adventures.
Pulse OX, sleep monitoring, altitude acclimation, PacePro, TOP maps, ski maps, and state-of-the-art global navigation.
Garmin Pay for contactless payments on the go, premium music streaming, and stellar 21-day battery life.
Phew. Sounds impressive, right?
Garmin 6X Fenix Pro Review: What We Say
The Garmin Fenix 6X Pro (Amazon Link) performs like a boss straight out of the box.
Let's put aside standard features like GPS tracking (it's Garmin, so you know the GPS functionality is flawless), fitness tracking, and navigation.
You've also got excellent map and music storage—with enough room in the trunk to store 2,000+ songs and expandable storage for more map data.
There are multiple preloaded ski maps, a pedometer, a women's health app, stress and relaxation apps, breathing exercises, sleep tracking, blood oxygen, training plans, gym workouts, and running apps.
Garmin 6X Fenix Pro Review: The Aesthetics
Straight off the bat, the 6X Pro feels solid, sturdy, and expensive. With a premium black-on-black finish, scratch- and shatter-resistant face, and sturdy stainless steel casing, Garmin has definitely invested time in elevating the Fenix brand.
With multiple QuickFit silicone bands on offer (at an extra cost, because of course) you can customize the watch to suit your style—or destination—in under a minute.  If silicone stretchy bands aren't your thing, Garmin also offers band variations in nylon, leather, and titanium.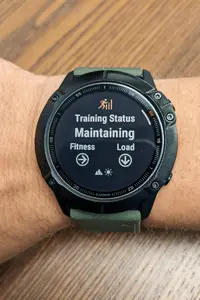 Garmin 6X Fenix Pro Review: The Hardware
If there's one element of the Garmin 6X Fenix Pro that doesn't act in its favor, it's the screen—specifically the fact that it's NOT a touch-screen. The Fenix Pro operates via five physical buttons—which may take some getting used to when you're out on the trail.
If the Fenix Pro sounds like a big watch, that's because it is.
The heavier casing, the heavy-duty build, and the large screen size all add up to make this a bulkier watch than you might be used to. It can move a bit on the wrist—nothing a quick adjustment in the strap won't fix—and its high profile might make it difficult to wear while sleeping.
On the plus side, you won't miss out on any water-related adventures this season with the Garmin 6X Fenix Pro—it's approved water-resistant up to 100M.
Garmin 6X Fenix Pro Suggested Workouts
This is one of my favorite features of the Garmin 6X Fenix Pro – suggested workouts. You can think of suggested workouts as your own personal coach. Although the suggested workouts by default aren't pushing you towards a race-specific way, they will help you get in shape and recover correctly based on your own bio-feedback from the watch. The biometrics include your heart rate, sleep quality (time spent sleeping and quality of sleep), a calculated "body battery", stress indicator, training status, predicted race time finishes, and your SPO2 (Oxygen Saturation).
There have been nights that I haven't slept well and I still wanted to get out and run sprints or strides. When it was time for my workouts I looked down at my watch and navigated to the run workout feature. Because I didn't get enough sleep and I had had a tough workout the day before it suggested that I make it a recovery day and take it nice and slow. Is it 100% accurate all the time – no? However, real running coaches, including myself, are never 100% accurate either.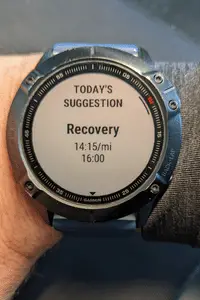 Garmin 6X Fenix Pro Review: Battery Life
The Garmin 6X Fenix Pro was a stellar performer when it came to battery life.
Over a 6-month period, and with some experiments around the in-built battery saver options and usage settings, I managed to get a pretty consistent 40 hours out of a full charge. That's 40 hours of working, hiking, two-morning jogs, a commute (with music), and a few in-app activities—so not too far off the Garmin estimation.
In tests where I just streamed music continuously, I managed around 10-12 hours each time—a reasonable run from Garmin that far exceeds the performance of Apple and Samsung products on the go.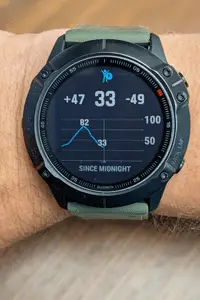 One curious feature we didn't test drive is the battery saver mode.
It disables data usage and apps, and Garmin claims it'll ensure your watch runs solidly for up to 21 days.
Garmin 6X Fenix Pro Review: The Experience
A Garmin smartwatch gives you access to the Garmin Connect ecosystem—an awesome platform for activity sharing, challenges, a Garmin device-compatible app store, and multiple groups.
When you start to trial the smartwatch features on a Garmin Fenix 6X Pro (Amazon Link), you'll realize one thing pretty quickly (if you're not already a Garmin smartwatch user)—there's a bit of a learning curve.
Garmin 6X Fenix Pro Screen
The screen is loaded with stats—all of which can be navigated with the buttons around the bezel—and you'll have multiple items and menus available as you scroll.
The screen can look a little busy if you're used to the clean lines of an Android smartwatch product, and the default font size runs small (as it does on all Garmin devices).
Launching an app or starting an app is easy once you get the hang of it, though.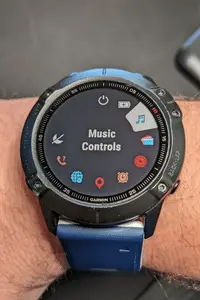 You can begin an activity in three or four button presses, optimize the profiles that you use most, and complete your initial setup in less than 5 minutes.
Taking things further with other high-use apps will require a little more time, but once set up I found that the Garmin 6X made for a responsive user experience.
From there, you'll find it easy to navigate to your music—Spotify is a go, Pandora is not—and navigate through the much-improved widget view.
Garmin 6X Fenix Pro Review: Accuracy
What's the point in strapping on a feature-rich smartwatch that costs as much as the Garmin 6X Fenix Pro—if the features don't really work?
Fortunately, Garmin delivers pretty consistently on that front.
Accuracy is excellent for heart rate when compared with what my handy neighborhood expert (my wife's a doctor) had to say. Resting heart rate tests only showed a 1-8 bpm variation on the Fenix Pro—just be sure it maintains consistent contact with your skin if this is a feature you're tracking.
GPS accuracy was everything you'd expect from Garmin, with a 14.7-mile trail ride through canyon country clocking in on the Fenix at exactly that.
The only feature that left something to be desired was the blood oxygen monitor. Going with my wife's gear I measured saturation of 96%, where the Garmin was picking up percentages in the sub-90s range. I also struggled to maintain a connection between my skin and the sensor for long enough to get an accurate reading.
Garmin 6X Fenix Pro Review: Value
We had to get to this at some point, right?
This is a hardcore watch with some impressive—and extensive—features. So, of course, it comes at a price. A hefty price, at that. If you can stomach that price, and you want all those features, the Garmin 6X Fenix Pro is well worth the initial financial outlay.
If, on the other hand, you're looking for a watch that can take you from trail to town and send a couple of quick messages to your buddies and family on the way, there are much more affordable—and user-friendly—options out there.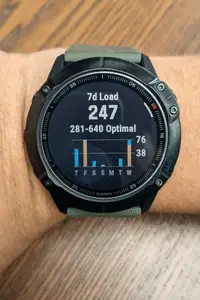 Garmin 6X Fenix Pro Review: The Pros
Rugged and hard-wearing
Excellent GPS navigation
Extensive range of features and apps
Near-endless customization options
Garmin 6X Fenix Pro Review: The Cons
Bulky and high-profile—pretty heavy by smartwatch standards
Expensive
Garmin 6X Fenix Pro Review: Final Verdict
The Garmin 6X Fenix Pro is one to watch if you're looking for a smartwatch with rugged good looks, intense durability, and a plethora of impressive features. Throw in the solid battery life and expandable storage, and it's hard to find a better watch in this category.
Unfortunately, the high price tag will bring it down a notch for some fitness smartwatch fans.
Check price on Amazon for the Garmin Fenix 6X Pro (Amazon Link)!
Check Out My Other Reviews:
Best Running Watch For Half Marathon/Marathon Racing
Best Earbuds For Running That Won't Fall Out
Best Cross-Training Stationary Bikes For Runners
Best Hydration\Water Packs For Runners
10 Running Gadgets You Can't Live Without!
Best Energy Gels For Half Marathons
Best Race Medal Display Ideas For Runners
Best Waterproof Running Jackets
Best Ways To Carry Your Phone While You Run
Best Protein Recovery Drinks For Runners
Best Mineral-Based Sunscreens For Runners
Best Ankle Braces For Peroneal Tendonitis
Best Ultramarathon Running Shoe
 To sign up for a FREE half marathon training schedule, log sheet, and pace predictor CLICK HERE.

 Connect with me: