If you are thinking about running a marathon, and want to know if it is possible to both train your dog and then take them to the race with you, you have come to the right place! While there are several important factors to consider when making this decision, we have all the information you need to choose for yourself if training and running a marathon with a dog is the right choice for you!
The simple answer is yes, you can absolutely train and run a marathon with your dog. However, you need to first know if your dog can safely run 27 miles at your pace, what harness will be best for them, and which marathons allow dogs to participate in the race before going ahead. 
In addition to these factors, you will also need to learn how to best train your dog so that they understand what you are asking of them! In this article, we are going to discuss the answers to each of these queries so you have all the knowledge you need to successfully and safely run a marathon with your dog.
How to Find Out if Your Dog Can Run a Marathon
Before you being training, the first thing to note is your dog's physical attributes and abilities. While almost every dog has the ability to run 27 miles, every breed and really every animal is a little different!
To find out if your pup has the capability to run a marathon, it is important to note their body type, breed, age, and physical health.
Muscle Definition
If your dog has long and sleek muscle definition, they are much more inclined to enjoy running long distances.
Whereas if they have short and thick or pumped up muscles, they are physically built for shorter distances and sprints as opposed to marathons.
Related: How To Safe While Running – A Beginner's Guide
Dog Breeds that Can and Cannot Run Marathons
Of course, as we know, every dog is different, just like humans! However, there are certain breeds that are simply bred for long-distance running while others are best suited for brisk walks. We have put together a list of breeds to help you understand if your dog will be able to run a marathon before going ahead with possibly futile training.
Dogs that can and will most likely love running a marathon include:
Huskies; Malamutes
Labradors
Terriers
Border Collies
German Shepards
Dalmations
Whereas breeds that cannot or will not enjoy a marathon are:
Pugs
Pomeranians
Chihuahuas
English Bulldogs
This list is not the absolute answer when it comes to your individual dog! You may have a terrier who technically could run 27 miles but hates to even go around the block
If you do have a dog that has lived a fairly sedentary lifestyle, it isn't impossible to train them for a marathon, but it may take a little longer than if your dog is already extremely active.
Related: Are Marathons Dangerous?
What Age Should a Dog be to Run a Marathon
Even though it may seem like your dog is healthy and happy, there are certain ages at which it can become quite dangerous for a dog to run a 27-mile adventure.
A six-month-old puppy may seem like the perfect marathon companion as they have endless energy, but in fact, their growth plates are not yet developed enough for consistent long-distance running. It is best to wait until they are over one year old before even beginning the training.
Older dogs, even if they seem in great health, should not be encouraged to run marathons as it can speed up their joint degeneration.
Although you may now have an idea of whether or not your dog will be able to run a marathon, before beginning any training with your dog, you should take them to your veterinarian to get the go-ahead that they are ready to run!
Related: My 9 Biggest Pet-Peeves During A Half Marathon Race!
How to Train Your Dog to Run a Marathon With You
First and foremost, you need to have a healthy relationship with your pup in which they respond to your commands, understand what you are asking of them and that they trust you completely. This will keep them and you safe during training and at the marathon. (You can read a bit more about how to safely run with your dog in the next section!)
If your dog is not already your running partner, it's important to practice with little runs on the leash so they understand the basic concept before properly starting the distance training.
From there, remember that even though your dog may want to run forever, it's much better for them to start slow and work their way up to long distances. If your dog is already an avid runner and grasps his or her role on the leash, you can begin by training them on your schedule.
Your dog cannot always express how they are feeling, so it's vital that during each run you notice how they are doing, always making sure to bring water and food if they start to run out of energy while far away from home. (Note that your dog will certainly be needing more food regularly as they will be burning off substantially more calories throughout their training.)
Keeping your dog safe is important, but it's also important to make sure running with your dog is not dangerous for you.
Is it Dangerous to Run with a Dog During a Marathon?
Always remember that no matter how well-trained your dog seems, they are still animals who may not have a complete understanding of what is happening during the marathon!
For that reason, they are still likely to bark at other dogs, become distracted by runners or even the vast crowds on the sidelines, or even want to stop completely if they find something interesting on the ground.
While this is normal dog behavior, it can be dangerous if you are running in a crowded race or if you are in the zone and trip over your dog when they become distracted.
In order to ensure the safest possible race, you need to ensure your dog truly listens to your commands, especially when it comes to new scents and passing other people or animals. When training, make sure you do not always run the same routes with the same smells and empty roads but instead choose parks, busy tracks, or anywhere else where your dog will become used to being distracted.
Realistically, it is always a little more dangerous to run a marathon with a dog instead of alone as there is another being to account for, but overall, just as if you were running alone: the training will determine if you have a safe race.
What are the 5 Best Harnesses for Dogs to Use During Marathons?
In addition to proper health, training, and a wonderful relationship with your dog, you will need the proper equipment in order to safely run a marathon together!
Here are the top 5 expert-recommended harnesses for long-distance running: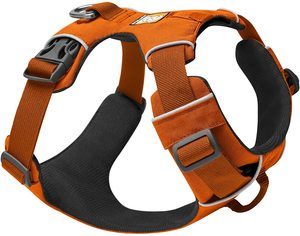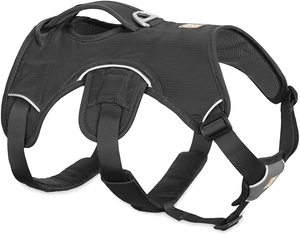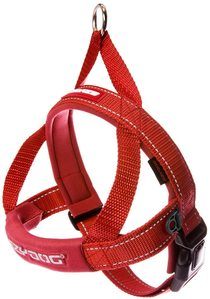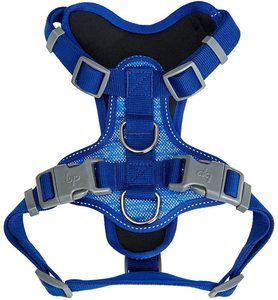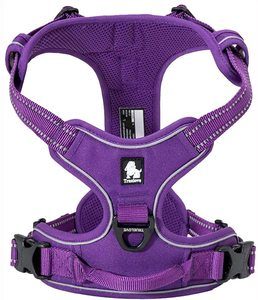 To find out a little more about which harness is right for your specific pup, check out this detailed article which lays out all the pros and cons of each harness!
Which Half Marathons and Marathons Allow Dogs in the Race?
Across the country and the globe, there are countless marathons and half marathons available to humans, but which races allow dogs?
Here are just a few of some of the most popular races that you can run with your dog:
Running With the Bears (California)
Columbia Gorge (Oregon)
Runner's World (Pennsylvania)
These certainly are not all the available options for you and your pup! But do make sure before you start training for a specific race that they will allow your dog to run with you.
Final Thoughts
You can absolutely train and run a marathon with your dog! Provided that they are in good health, well-fed, of the correct age, properly trained and that they are allowed in the race! 
That may seem like a lot of factors to consider but we want to ensure that you don't take this too lightly, even though it may seem like your dog is invincible, 27 straight miles is tough for almost everyone!
Meta Description
Everything is always better with your best friend by your side, if you want to train your dog to run a marathon with you, we have all the information you need!
 To sign up for a FREE half marathon training schedule, log sheet, and pace predictor CLICK HERE.

 Connect with me:
References
https://www.runnersworld.com/races-places/a20858063/bucket-list-11-races-you-should-run-with-your-dog/