What to do when your half marathon race takes a nosedive!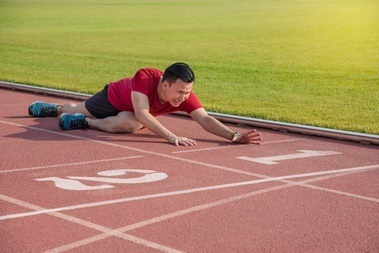 All runners from time to time will experience absolutely atrocious runs. My last half marathon, just 3 days ago, would fall into this category. So what do you do when your long runs don't lay down the way you expect them too, especially races? I try to go back and do a quick self-evaluation about 24 hours after a lousy run. Below, I will break down an example of one of my most recent half marathon races and what went wrong.
Q: Was there any physical pain that caused you to slow down and not finish the race as planned?
A: No
Q: What was the weather like? Unusually hot, cold, or windy?
A: Weather was extremely humid and the temperature was at 82 degrees Fahrenheit.
Q: How did your body feel on the run?
A: I ran a good pace for the first 7 miles and then at mile 8 I got winded. Also, during this race, I sweated more than usual.
Q: Is there anything unusual that took place during your training? Were you sick,?
A: I wasn't sick during my training, however, there were a few weeks that I couldn't log all of my base miles and a few of my long runs didn't go very well due to hot weather training. This is a good reason to keep a training log so that you can look at your training log to see why things went well or didn't go as well as planned.
Q: Was there anything unusual about the geography of the course (example: lots of hills)?
A: This race had 8 very large hills after mile 8. I didn't have many training sessions involving hills.
Q: Did you eat enough calories prior to and during your race?
A: Yes
Q: Did you get enough sleep?
A: Yes I slept descent and tapered off my running like my training said to do.
In conclusion, my run didn't go as well as planned because the weather was warmer than normal. I don't run well in the heat. Also, I might now have put in as many base miles as I should have during a couple of the weeks of training. Sometimes there isn't an exact answer as to why you didn't do as good as you thought possible, but more than likely it will lead back to one of the following situations below:
Weather extremely hot or cold.
Your feeling under the weather or sick.
Your feeling winded or tired. Normally caused by not having trained at long enough distances.
If you cramp up during the upper miles, you might not have trained your body to run that far at a higher than normal pace.
Did not eat enough energy prior to your run or didn't eat additional fuel on your long runs.
The possibility of a physical injury.
Scott Morton is the author of, Beginner's Guide to Half Marathons: A Simple Step-By-Step Solution to Get You to the Finish Line in 12 Weeks! (Beginner To Finisher Book 3), which has become an Amazon #1 bestseller. Scott specializes in helping new runners become race finishers.
To sign up for a FREE half marathon training schedule, log sheet, and pace predictor CLICK HERE.
Beginner to Finisher Series:
Why New Runners Fail: 26 Ultimate Tips You Should Know Before You Start Running! (Book 1)
5K Fury: 10 Proven Steps to Get You to the Finish Line in 9 weeks or less! (Book 2)
10K Titan: Push Beyond the 5K in 6 Weeks or Less! (Book 3)
Beginner's Guide to Half Marathons: A Simple Step-By-Step Solution to Get You to the Finish Line in 12 Weeks! (Book 4)
Long Run Hacks: 20 Ultimate Tips To Help You Push Through Hard Runs (Book 5)
How to Avoid a Half Marathon Meltdown: 10 Things You Need to Know to Make Sure Your First Half Marathon Isn't Your Last! (Book 6)
Follow me on Facebook and Twitter:
Twitter: @BeginR2FinishR
Facebook: facebook.com/BeginnerToFinisher/