Running With a Smartphone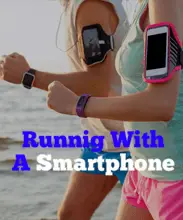 Where to put the phone while running?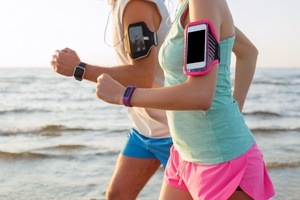 So you've decided to take up running. You might have been on some runs and you're holding your smartphone in your hand. After a mile or two of playing hot potato with your phone tossing it from hand to hand, you realize that you need something to hold your phone while running. Luckily dozens of companies have put forth great effort to make some of the highest quality products to hold your smartphone. Products like a phone armband, running armband, or maybe even a running belt is where you'll want to begin looking. When running with a smartphone you'll need to consider a few of these criteria before making your purchase.
Things to consider when running with a smartphone
If you do carry a smartphone, consider using an adjustable armband that can strap to your forearm or upper arm. Try to switch arms every other run or so.
If you insist on holding your phone while you run. Alternate hands every 5 minutes or every mile.
How often do you access your phone during a run?
If the answer is ALL THE TIME.
You'll need to use a transparent running armband. There are some armbands that actually rotate your phone so that it's not in an awkward position to read all of those Facebook posts. If you select a running belt or another storage device you'll wear out the zippers and become frustrated to no end from pulling the phone out every 2 minutes.
If your answer is VERY LITTLE.
You can use any running smartphone storage device
Are you running long distances (anything greater than 5-6 miles)?
If your answer is NO.
You can use any running smartphone storage device.
If your answer is YES.
You'll want to consider that running with an armband you switch arms every week. Switching your arms every day might be a pain. This to prevent awkward suntans or sunburns. Also, although this is minimal, running with your smartphone strapped to the same side every time could cause a slight imbalance in your gait. If you use your hand to hold your smartphone then consider switching hands every 10 minutes or every mile/km you run.
Do you mind things being strapped to your arms?
If your answer is NO.
You'll want to wear a hydration belt, running belt, hydration pack or use your trusty hand to hold/store your smartphone.
If your answer is YES.
You can select probably the best solution to store your phone which is a running armband.
Can you run with something strapped to your back or chest?
If your answer is NO.
You'll want to wear a hydration belt, running belt, or running armband. Stay away from the hydration packs and running vests.
If your answer is YES.
You can go with a hydration pack (water running pack) or hydration vest to store your smartphone while running. You'll probably only want to use a pack or vest on a much longer run or race such as 9 milers, half-marathons, and marathons.
What's the difference between a hydration belt and a running belt?
The biggest difference between a hydration belt and a running belt is that a hydration belt allows you to store small water bottles (sometimes up to 4) for a long run so that you can hydrate. A running belt normally doesn't have specific slots for water bottles and is primarily used for shorter runs or someone who doesn't want the extra weight of carrying water while running.
A Hydration Belt looks like this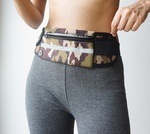 A Running Belt looks like this
What's the difference between a running hydration pack and a running vest?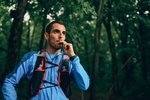 A running hydration pack has an extra compartment that sits on your back where you can store your water bladder (pouch). The water bladders can be purchased individually and sometimes they come with the running hydration pack. The water bladder sits flat against the back. A hose about 3 to 4 feet long extends up the back of the pack and comes over the shoulder and rests within a fastener on the front of the chest area. This allows for easy access to fluids during a run and decreases slowdowns significantly.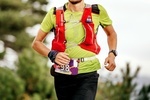 A running vest allows you to store larger water bottles up on the front of each shoulder in two different slots. The water bottles lay flat against the chest.
The running vest and running hydration pack should both come with pouches to store the water upfront and another pocket to store your smartphone. Look carefully when purchasing a running vest because some are minimal and don't provide any other pockets beside the pockets for your water bottles.
Best running belt
sport2people Running Belt. This belt is the best all-around running belt you can buy.
If you're looking for a close-to minimal running belt check out the SPI Running belt
Both the sport2people and SPI running belts can store your iPhone 6, 7, 8, and X. The sport2people running belt can carry a quite a bit more than the SPI running belt such as your keys and energy gels.
Best hydration running belt
There are hardly any contenders for the best hydration belt. URPOWER hydration belt is inexpensive and gets the job down.
The only runner up mention in this category is the Runtasty Hydration belt. Both of the running hydration belts store your iPhone all the way to the X model. The one mention that might make you lean toward the Runtasty Hydration belt is the tilt-up transparent phone pocket with a touch screen ready window.
Best running armband
TRIBE Water Resistant Cell Phone Armband Case for iPhone X, Xs, 8, 7, 6, 6S Samsung Galaxy S9, S8, S7, S6, A8
VUP Running Armband is a second mention for easy viewing access to your smartphone. Its screen rotates 180 degrees.
Best running hydration pack
For the price, you can't beat the Mubasel Hydration Pack
If you're going to be running marathons, ultrathons, and/or relay or staged races I would go with a Camel Bak. You're going to pay 5 times the price but Camel Bak guarantees this product for life.
For more info on hydration packs check out this article here.
Best running vest
Uninova Reflective Running Vest – For the price this no-nonsense vest is minimal. It offers just a few pockets for water bottles, smartphones, and keys.
Do you need to run with your smartphone at all?
"Are you crazy?" you might ask? Of course, I do!
I've run 12 half marathons and I've never run with my smartphone. I have run 9 of my half marathons with a hydration pack (Camel Ultralight hydration pack). The choice of whether to run with a smartphone comes down to personal preference. Here is a list of pros and cons to running with a smartphone:
Smartphone Pros:
Have access to your favorite running apps for tracking location and pace.
Access to music.
Ability to call 911 for emergencies.
Take pictures on race day.
Available to be contacted, especially if you have kids.
Ability to use GPS enabled tracking apps such as Strava and Nike Run.
Don't have to purchase additional Smartwatches or MP3 players.
Smartphone cons:
Text messages/phone calls can distract your run.
Could potentially throw off or imbalance your Gait Cycle. Gait Cycle Image
Not being able to release yourself from technology.
The weight of the phone is negligible, however, it is still considered extra weight when running.
Conclusion
I have tried to run with a phone and I can't-do it. The only time I will bring my phone on a run is when I am wearing a hydration pack and the phone can be slipped into one of its pockets. Otherwise, the phone stays behind. So what do I use to track my runs? Simple, I run with my GPS enabled Garmin Forerunner 235 and a clip-on SanDisk Sports mp3 player. The SanDisk sports model is waterproof and if you sweat a lot this will come in handy. They are both lightweight and I hardly notice that they are attached to my body. The one drawback of having multiple devices is the cost of each individual device vs a single smartphone unit with a single cost.