1
17 Tips to Help Boost Your Motivation For A Virtual Half Marathon Race!
Signing up for a virtual half marathon is the easy part. Sometimes actually running your virtual half marathon weeks into the future is another. Let's face it when you compare a normal half marathon race to a virtual half marathon race they both seem essentially the same. One of the biggest problems with running a virtual half marathon is showing up on race day to execute your training and run 13.1 miles (21.1 kilometers) to a virtual finish line.
It's lonely, there are no large crowds to cheer you on, and worse you don't get to be presented with a physical race medal for participating. If you're still motivated and want to smash your virtual half marathon then here are 17 tips to help make the most out of your race:
1. Run in a loop
Running in a loop isn't required but it makes it easier for spectators and fans to find you if they can't be there for your entire race. Make sure you pick a fairly easy and safe loop so that you can successfully finish your virtual half marathon. Try to stick to an out and back loop or shorter looping intervals such as 4 laps around a 3-mile loop and then finish 1.1 miles at the tail end of the loop.
2. Print out your run and hand it to your fans
Once you've decided your safe and easy running route, turn your route into a printable map of your running course. Mark time indicators along your route showing places you'll be at specific times during your race. Make sure and give a window of time such as I'll be at this location between 7:30 and 7:40 just in case your pace is faster or slower on race day. You'll want your spectators and fans to be able to pop in and cheer you on during your surge to the finish line.
3. Create your own DIY aid/station
You don't have to go overboard to make a useful water/aid station for your virtual half marathon. All you need is a simple, normal-sized table, that can hold water and some of your snacks and energy gels (check out my detailed review on energy gels) when you run your loop route for your virtual race.
If it's hot outside you might want to throw everything in a cooler. Throwing in a wet cold towel is a bonus if it's going to be hot outside. You can simply grab the towel and walk around your aid station a few times touching the ice-cold towel to your face and body. When you're done with the cold towel throw it back in the cooler and keep on trucking.
If you don't want to mess with a table you can always run your race in a park and just throw your stuff on a bench or park picnic table. Hopefully, the local wildlife will leave your tasty snacks and drinks alone.
Don't forget to throw in a victory beer or drink. A dry towel comes in handy for post-race drying off. For a list of things you'll need for a half marathon and what to do after your half marathon race, check out this checklist – Half Marathon checklist.
4. Ask your friends to make some signs to cheer you on
If you want to create some personal motivation for yourself ask everyone that is close to you or maybe just your running friends or running club members to help cheer you on during your race. Pick a convenient time that suits both you and extra spectators that could help cheer you on.
Let your fans make silly signs that will make you laugh and smile, or maybe cry… Any positive motivation while running a virtual half marathon is a must. For some additional race day motivation tips, check out: 5 simple ways to boost motivation on race day.
5. Have someone crew for you
Crewing is primarily used during ultra-marathons as a way for a group of individuals to support a runner at each on-course aid station. This allows the runner the convenience of not having to pack everything and carry it during the entire ultra-marathon run. It also allows the crew to carry a wide range of energy snacks, drinks, and even additional pairs of running shoes if need be for the runner to choose from.
If you have someone crew for you they can hold up signs with your laps/pace-time or simply have a cold drink or energy snack waiting for you each time you pass by your DIY water/aid station.
This will prevent you from having to carry your water or energy gels with you during your virtual half marathon. Less weight = a better finish time.
6. Make your own finish line
Now is your chance to break the tape at the finish line, only you'll have no competition that might get to it before you do. You can make this as simple or complex as possible. All you need to get started is some toilet paper or any color streamer (finish line streamer paper Amazon Link). Stake down two poles and tie the toilet paper or streamer between the two poles. If you don't have any poles go you can find two trees to tie the finish line too. As a last resort, you can simply ask two of your friends to hold one piece of the finish line as you smash through it after you've completed your virtual race.
Don't forget to take a picture – this might be your first and last virtual half marathon!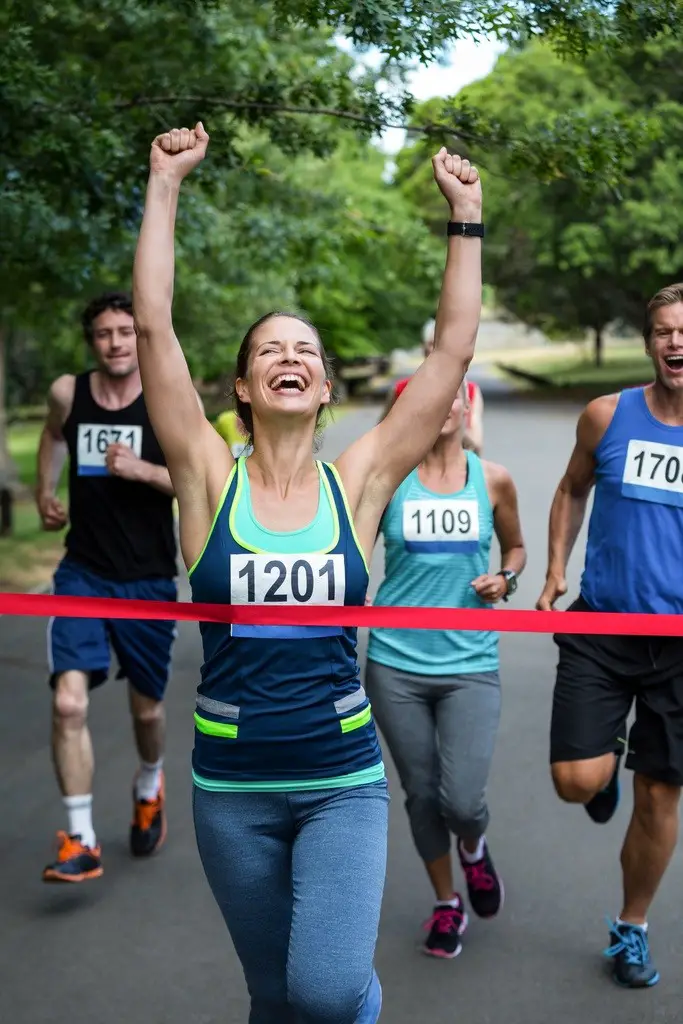 7. Make your own finishing medal
You can design your own finisher's medal for your virtual half marathon. A website that allows one-off medal orders at a decent price is – Crown Awards.
Your medal will be one of kind so make it super cool so that all of your running buddies will wonder where you got such a good looking medal!
8. Make your own bib
When you wear a bib it throws your mind into race mode. Here is a great website that you can create a free printable color bib with your name on it – The Best Race Bib Maker.
9. Let people track you
The one cool feature I love about Garmin products is the ability for people to track you. You can do this for safety reasons or you can do it simply to let people watch your progression during a race or a virtual half marathon race. Check out more details at Garmin LiveTrack.
10. Run at an optimal time
It's your virtual half marathon race and you get to pick the time you start. Give yourself the advantage of doing it when you feel most rested and the weather outside is in your favor. Some of us aren't morning birds singing sweet songs of fluff and wake up a little later, that's fine – it's virtual so pick the time you want to race and do it!
11. Make your course easy and flat
The worst thing you could do is set yourself up for a lousy virtual half marathon race by choosing a hilly or mountainous race. Route your race on a nice flat course with little elevation gain.
12. Don't forget you can pause your run
I'm not encouraging you to pause your run but it's nice to have the flexibility if you can. Since your racecourse route won't be blocked off with barriers, volunteers, and traffic police, you'll want to pause your run if you're having to wait for a traffic light or maybe something else catastrophic. Don't worry nobody's looking.
13. You can run in your neighborhood
If the idea of you running around a park wearing a race bib sounds kind of silly, you can always run around in your neighborhood. It's usually a safe place to run plus you know the neighborhood routes and can spot something if something seems off. The only thing you have to worry about is your neighbors seeing you out and bout wearing a race bib. They might also notice the frequent stopping at your makeshift water/aid station you've devised.
If you're DIY water/aid station is in front of your house (a perfect spot for it) – you get a bonus – you have access to your own bathroom – not a porta-potty!
14. Run with Strava Routes
If you want to run a half marathon route and don't want to make one yourself, Strava Routes is your answer. Strava routes lets you create running routes or simply download a previously created running route to your Garmin device.
15. A treadmill might be an option
There aren't any rules of where you can run a virtual half marathon so if the weather isn't permitting and you want to stay at home or go to the gym then your best option is a treadmill. Some of the newer versions of the treadmills allow you to choose a location to run at so you can virtually escape to another location in the touch of a button. I prefer to run my longer runs on asphalt or concrete, but sometimes a treadmill does come in handy.
Is it possible to run a half marathon on a treadmill? Check out this detailed post discussing – Can you run a half marathon on a treadmill?
16. Don't forget local charities or small businesses
Local Charities and small businesses can benefit from your virtual half marathon. You can ask someone to sponsor you through a small local charity by using a GoFundMe website or you could share a link you on your social media linking directly to your local charity. The opportunities are endless of all of the great causes you could run for.
17. Find a virtual race
If you don't want to put on your own virtual race, check out these websites that offer virtual racing. Some of the races are free and others you have to pay a small entry fee. Most of the paid virtual races will ship you a tech shirt as well as a finisher medal:
To sign up for a FREE half marathon training schedule, log sheet, and pace predictor CLICK HERE.

Connect with me: