Max Out Your Marathon with OrangeTheory Training
Max Out Your Marathon with OrangeTheory Training
So you want to improve your marathon, and you've heard talk of a new training program in the running world. You're wondering…what's OrangeTheory training, and, more importantly, can it improve your half-marathon (or marathon) time? The short answer, yes, it definitely can.
What is OrangeTheory Training?
OrangeTheory is rocking the running scene with its heart-rate based workouts. The hot new program works the entire body through group workouts that combine the latest in exercise science, technology, and personal fitness coaching.
What is the Focus of OrangeTheory Training?
OrangeTheory focuses on increasing your metabolism's ability to burn calories during and after the workout. More importantly, it focuses on developing strength and endurance through High-Intensity Interval Training (HIIT) by reaching "The Orange Zone."
OrangeTheory works to get you to your "Orange Zone" for at least 12 minutes, burning fat and calories while in the zone.
The Benefits of OrangeTheory Training
The main benefits of OrangeTheory are typically associated with its weight-loss function.
OrangeTheory tailors training to you.
Personal trainers develop a program that assists you in reaching your "Orange Zone." They provide you the support you need to succeed while building you up in a team setting.
OrangeTheory gets results…and shows you them in real-time.
Heart Rate monitors track your progress as you train, and shows you your results on-screen in training to motivate you as you work.
OrangeTheory training is versatile.
You can use OrangeTheory to develop your endurance, strength, or power. A variety of equipment, including the treadmill, TRX, and weight machines are used during orange theory training.
OrangeTheory works for any fitness level.
OrangeTheory adapts based on your individual fitness level. Beginners can find a supportive environment that will guide them to a better fitness experience. If you're an expert athlete, your coach will tailor exercises to challenge you.
What's the Average Calorie Burn of OrangeTheory?
The answer to this is simple…it depends. The average calorie burn during and after any workout depends on your weight, metabolism, and several other factors.
The fans of OrangeTheory vouch for its ability to promote post-workout calorie burn. OrangeTheory burns about 500-1,000 calories per workout on average, depending on such factors as metabolic rate, age, and personal effort. Post-workout results typically see participants see an additional calorie burn around 15-20% more than their standard resting calorie burn.
The nice thing about OrangeTheory? The personal trainers will work to help you meet your optimal calorie burn ability when you reach the "Orange Zone."
What Exactly is the Orange Zone?
The sweet-spot of OrangeTheory is the "Orange Zone." The Orange Zone promotes the optimal post calorie burn possible for the workout participants.
You only reach the Orange Zone when you spend 12 minutes or more in the fourth and fifth of the five major zones that OrangeTheory builds their training off of.
Zone 1 and 2 are a traditional warm-up zone, but it is in Zones 3, 4, and 5 that participants are meant to focus on. Zone 3 is the launch point to access Zone 4 and 5, which make up the coveted "Orange Zone."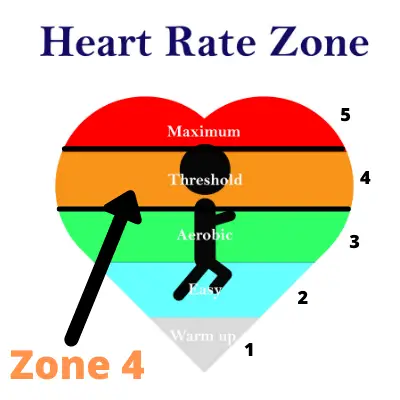 Why is the Orange Zone Important?
The health gurus of OrangeTheory tout their program's success as being the result of an effect explained by the Excess Post-Exercise Oxygen Consumption theory, also known as the EPOC. When in the EPOC, OrangeTheory attendees will experience an increase in metabolic rate.
You reach the EPOC in OrangeTheory when you hit your "Orange Zone" during the class. It's in the Orange Zone that you will trigger the elusive EPOC state and your metabolism starts to really fire up.
Once you reach the Orange Zone, the coveted afterburn state of EPOC will continue post-workout, and theoretically, you'll continue to burn more calories than normal throughout the next 36 hours.
Should You Try OrangeTheory?
OrangeTheory is a great workout option for just about anyone. The entire program is modifiable to suit just about any need.
Do you have old injuries or pre-existing conditions? Guess what? Your OrangeTheory coach tailors your exercises to your needs and fitness level!
Keep in mind that OrangeTheory offers their first class free to let you give it a fair try. And, OrangeTheory requires you to bring minimal supplies to class, everything waits for you at the gym. A water bottle and towel are all you need to participate.
OrangeTheory suits most fitness regimens, or stands as a perfectly good program by itself, but if your goal is to gain a massive amount of muscle, it might not be the best fit for you.
It's important to note that OrangeTheory is different from gym memberships and operates more like a personal training program. To attend OrangeTheory classes, you can pay for a single class, or purchase a membership.
OrangeTheory membership typically comes in three tiers: Basic, Elite, and Premier. Basic membership includes 4 classes, Elite includes 8 classes, and Premier membership includes unlimited classes.
Does OrangeTheory Promote Weight Loss and Muscle Toning?
OrangeTheory is best known for promoting weight loss, but it also helps develop and tone muscles in the process.
Exercise and muscle growth, in general, go hand in hand. As weights are lifted and pounds are shed, muscles begin to sculpt.
If you're looking to sculpt and tone your muscles and shed a few pounds, OrangeTheory is a perfect blend to suit those goals!
What Exercises Can I Expect in Orangetheory?
The OrangeTheory workout builds off of cornerstone exercises that have been around the gym for decades.
You can expect to see row machines, free-weights, treadmills, TRX, and bodyweight exercises to crop up in an OrangeTheory workout. But, the star of the OrangeTheory program is the treadmill.
The treadmill is where the Orange Zone is sought out. You can expect at least half of your class to consist of cardio, with speed suggestions and incline options suggested by the coaches.
If you're not a fan of the treadmill, bikes and striders are around to hit that calorie-burning zone, too!
After kicking butt on the strider, treadmill, or bike, you'll find yourself working on strength training for the remainder of the workout, with the weight and reps being tailored to you by your coach.
An example workout might be something along the lines of rows followed by free-weights followed by time spent on the stationary bike – all in the short span of an hour!
Orangetheory Before and After One Month
So what kind of results can you expect from OrangeTheory after just one month?
Well, this is another case of it depends.
The reality of exercise and weight loss is that the more exercise you do, the more weight you lose. So, the more often you train at OrangeTheory, the more likely you are to see more results.
But, you can burn 500 calories or more during an OrangeTheory workout. The general rule for losing weight is to eat fewer calories than you burn in a day, and the rough estimate of calories to burn in order to lose 1 lb is about 3,500 calories. So, one OrangeTheory workout a week can help kickstart your weight loss and fitness journey!
Can OrangeTheory Improve My Marathon (or Half-Marathon)?
Yes, OrangeTheory can most definitely improve your marathon times if you use it right.
Most beginner marathon runners focus too much on only running, and often run too much. This can lead to muscle strains and injuries from overuse.
Avoiding injury and achieving stellar marathon times requires a balanced workout regimen typically known as cross-training.
cross-training
Cross-training helps you avoid muscle overuse from repetitive training, challenges your endurance, and keeps you from getting too bored with your workouts.
OrangeTheory is the cross-training dream for marathon runners. You get your cardio in for the day, and you develop your muscles across the board, giving yourself the comprehensive strength you need to endure the rigors of marathon training.
More importantly, the High-Intensity Interval Training integral to OrangeTheory can give you the extra oomph you need to blaze through your marathon.
While marathoning focuses mainly on long-term endurance, the ability to run at higher speeds for shorter intervals can help you speed through certain sections of your marathon, and really kick some dust when you hit that last mile or so.
Develops endurance to higher intervals of speed
In short, OrangeTheory provides runners the best of both worlds. You get your cardio in, but more importantly, you develop endurance to higher intervals of speed, strengthen your whole body, and learn how and when to push yourself with the help of your coach.
Keep in mind that OrangeTheory is best paired with an existing marathon regimen, because the classes focus more on short intervals of intense workouts, and won't prepare you for the long-distance running needed to run an entire marathon.
Any level runner can use Orangetheory
OrangeTheory is a workout regimen that can suit just about anyone. The program is perfect for beginners looking to lose some weight and get fit, but also suits the regimen of marathon runners out to reach a new personal best on their run times.
If you're looking to challenge yourself with a fitness program that provides all the guidance and motivation anyone could need, consider giving the OrangeTheory program a try.
Looking to speed up your marathon times? OrangeTheory in a new, fun training program that can improve your half-marathon or marathon runtimes with the added benefits of strength training and weight-loss to round out your workout regimen.
Are you thinking about running a marathon? If so check out: Can I Run A Marathon? Do I Have What It Takes?
You can checkout OrangeTheroy here.
To sign up for a FREE half marathon training schedule, log sheet, and pace predictor CLICK HERE.

Connect with me: