How to Avoid a Half Marathon Meltdown – Fortifying A Runner's Mindset

Fear – The mental side of running.
Getting past the fear of running 13.1 miles is one of the biggest hurdles of completing a half marathon. The trick is to adopt a runner's mindset. I'm going to let you in on a big secret that helped me get past my fear of having to run 13.1 miles. Most first-time runners don't run the entire 13.1 miles. Wow, what a secret. It's true. The super athletes and other runners trying to beat their personal best records might very well run the entire race. I've completed eight half marathons and one full marathon. Most runners, at a minimum, walk through the water aid stations along the course. Once I realized that you don't have to run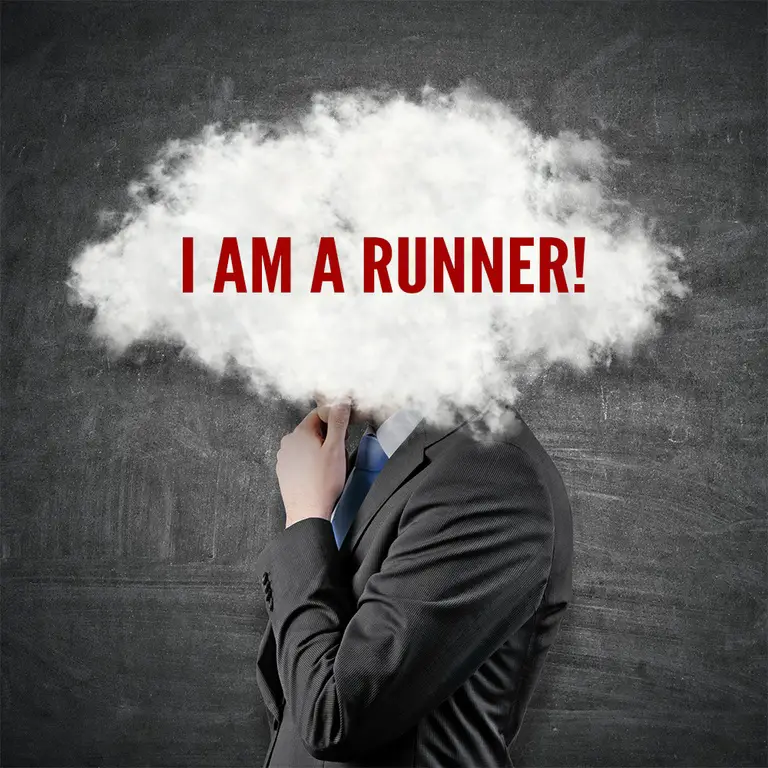 the entire distance, the fear of running a half marathon vanished, instantly. My mind had found a chink in the armor.
Believe in yourself
Different nutrition guides, shoe strategies, running miles per week, etc. Among all these differences, there is one common thing agreed upon by almost all runners – You have to believe in yourself and believe that you are a runner. Without this firmly ingrained in your head, you won't make it past mile nine, and you won't make it to the finish line. I'm not telling you this to discourage you. I'm telling you this to prepare you for the mental battle of running.
Why identity is everything when you're forming a new habit such as running!
Learn to like discomfort
Whenever we take on something new that will challenge both our physical capabilities and mental strength, we enter into a state of discomfort. In this state of discomfort, or discomfort zone, nothing is yet routine and we're having to learn new things. While your body and mind are in this zone experiencing new habits and routines, your body and mind are in a state of personal growth. Without pushing ourselves in our own lives we become comfortable and safe (comfort zone), yet we don't experience a great increase in personal growth.
While in a state of discomfort, your mind will continuously try to get you to come back to the comfort zone. If you stick with a training plan and follow someone's step by step advice, you can make extraordinary things happen. By using affirmations and visual exercises I've learned to help push myself through any discomfort zone I've come across.
Disillusion zone
One word of caution when stepping into discomfort zones is to not overstep into a zone of disillusionment. In other words, don't bite off more than you can chew. For example, let's say that I am thirty years old and I have never participated in any sports whatsoever. I decide that I want to run a marathon in under four hours and be trained in the next 15 weeks. This is clearly jumping way too far into the discomfort zone and this will quickly lead to injury, quitting, or both. Know thyself and your capabilities. In this above scenario, a much better goal would be too simply state that I want to be able to run a 5K without walking in the next 16 weeks. While it's great to shoot for the stars, this goal is much more attainable than the previous goal.
Affirmations/Mantras
I first learned about affirmations from a book written by Jack Canfield called, The Success Principles (Amazon link) I had just turned forty and was wondering if there was anything I could do to help further my career along and obtain more personal growth. Affirmations, are simply positive statements that help you focus on an end result or state of being. Some examples could include, I am a runner, or, I will cross the half marathon finish line. Affirmations can be anything from any part of your life. The key is to repeat them multiple times per day to yourself. Mantras are usually words or sounds used in meditation. Mantras tend to be much shorter in length, for instance, run, run, run, or, don't stop running. Technically mantras and affirmations are used interchangeably. If you haven't used affirmations before, try it out.
Visualizing success
Another key way to keep your mind focused and breakthrough mental barriers is to visualize your success. Whatever you want to accomplish try to visualize yourself completing the task. If one of your goals is to complete a first time half marathon, then close your eyes and visualize how you will feel when you have accomplished the feat. Another way you can implement visualization is to cut out a picture of yourself and place it in between a finish line photo. Place that photo on your fridge as a reminder of your goal. If you keep repeating visualization exercises and repeating daily affirmations, you will slowly start to feel a little bit better in the discomfort zone.
To sign up for a FREE half marathon training schedule, log sheet, and pace predictor CLICK HERE.

Connect with me: