Give Thanks to Half Marathon/Marathon Runners
I had recently run my first half marathon in October 2016 when I decided to take on the feat of running a marathon. My rationalization was that I wasn't getting any younger at the age of 43 and I was able to finish a half marathon with no sustained injuries. I ran one more additional half marathon in January 2017 about 6 weeks before my marathon scheduled in Feb 2017.
Emotional State
During my marathon run, I cried a total of three times and for different reasons. I normally don't cry – at all. At mile 18 of my race, the outside of my quadricep muscles cramped up. I had to walk and stretch constantly over the next couple of miles. I cried thinking that I might not finish the race. I powered through the cramps and pushed on towards the finish line. When I saw the finish line at about 25.8 miles my eyes filled with tears again. I was going to complete my first marathon. I was in a state of euphoria. When I was approaching the finish line I heard my name announced and tears filled my eyes again. I had no one there when I crossed the finish line. Just volunteers telling me congratulations.
Give Support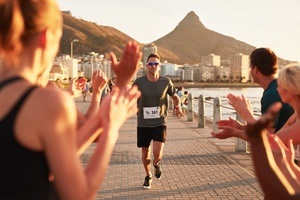 If you know someone, especially a close family member, that is running a first time half marathon or marathon make every attempt to be at the finish line for them. I promise you they will remember there finish forever and who was there supporting them. In my case, for my first-time marathon run, we had a young child that my wife had to care for so she was unable to make it to the finish line. Marathon runs are making it easier and easier for you to track where a runner is at. Some have live track systems when a runner reaches a certain point in the race it reads the chips then sends out alerts in the form of emails or texts to supporters. This helps so you don't have to stand at the finish line waiting, but instead get an estimate of when they are supposed to cross the finish line. An alternative is to simply ask the runner you're supporting what time they plan on finishing. If they have trained appropriately they should know what time they will cross the finish line. Smartphones wired to GPS watches also have live tracking capabilities such as Garmin Connect or Strava.
I am grateful to the runners, volunteers, and supporters of long distance racing. Thank you!
Happy Thanksgiving!
#HappyThanksgiving #givethanks #runnersupport