Thank you for signing up!
Thank you for signing up!
You should receive your confirmation email shortly. Once you confirm your email you will receive the email link to download the 12-week training schedule, pace predictor, and log sheet.
Discover an all in one solution to get you ready for your half marathon race day!
My name is Scott Morton, my company's name is Beginner to Finisher Running. I'm also a certified running coach through RRCA (Road Runners Club of America).
My story: I was an average 40-year-old something runner with absolutely zero long-distance running experience. I played sports for most of my life so you can say that I've lived an active life. I am by no means super athlete, in fact, several of the readers have gone on to outperform my average results – time and time again.
After completing my first half marathon – a flip switched inside of me.
When the flip switched, three passions ignited inside of me:
I liked helping people (people would always ask me for help)
I wanted to write a book (actually a fiction book)
Running (which I call my tipping point)
I mashed and stretched all of these ideas into one focus and my first written book was born in May 2017, Beginner's Guide to Half Marathons. When it first launched out into the world I had high hopes, instead, it landed sideways on one wheel flipped a couple of times and crashed. The first two months out of the gates it generated zero sales (actually one sale which was me). Soon after the launch with delusions of grandeur, I became hooked on writing books, and that's when the series, Beginner to Finisher Running, was born.
The switch flipped when I combined all three of these principles:
Wanting to run a half marathon (setting a goal)
Sticking with a schedule (sticking with a goal)
Finishing the race (completing a goal)
While you're here stick around and read some of my highest viewed blog posts:
Long Run Struggles For Beginners (Part 1 of 4)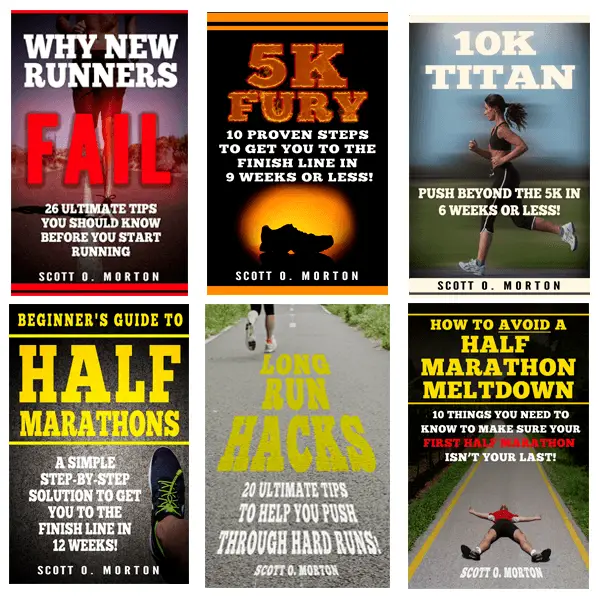 CLICK HERE to buy all of these eBooks on Amazon, Kobo, iBooks, Barnes & Noble, etc but not for this price.