Can Negative Splits Help Me Run A Faster Half Marathon?
Either you are planning to set a new personal record or preparing yourself for any event, negative splits are the way to go. Running them is the best way to build the aerobic base and strength which is more crucial at events like the marathon and half marathon. However, not everyone thinks the same about this pacing strategy. Despite the odds, negative splits hold a great value for helping you race a faster half marathon.
What Are Negative Splits?
It may sound complicated at first, but the concept of negative splits is simple and straightforward. In this strategy, you run faster in the second half of the race and run slower in the first part of the race. By doing this, you save a lot of energy, stamina, and feel light as the race continues. It lowers the chances of bonking in the latter part of the race and helps you finish at a faster pace.
Easier said than done! Implementing this strategy is not that easy, especially in the situation where your adrenaline is kicking, and other runners begin by sprinting.
You must set your mind to it and stick with it for the long haul. You must implement a proper training regime and practice the workouts as much as you can.
An example of a negative split, calculated on the website – RiderSite.org, depicts a 2:00 hour half marathon finish time using negative splits:
What Are Positive Splits?
A positive split is the exact opposite of a negative split. In this strategy, you run faster in the first half of your race and slowdown in the second half of the race. It may be a good strategy for some events where you want to run faster especially when you have a bunch of hills at the start of the race.
Positive splits are useful for maintaining consistency while running. This technique mainly works in competitions. But again, this is a subjective strategy and doesn't work for a majority of runners. Most elite runners only run negative splits!
An example of a positive split, calculated on the website – RiderSite.org, depicts a 2:00 hour half marathon finish time using positive splits:
What Are Even Splits?
You guessed it, nothing more than running an even consistent pace throughout the entire race. This is what most first-time half marathon runners venture out to do. Unfortunately, a good percentage of us end up running a positive split on accident. Too fast out of the gate due to nerves.
An example of an even split, calculated on the website – RiderSite.org, depicts a 2:00 hour half marathon finish time using even splits:
Which pacing strategy is Better for a Half Marathon Race Negative, Even, or Positive?
In almost all racing events, negative splits are the best pacing strategy. However, for new runners that are not well seasoned an even split or stead pace might be your answer.
A negative split pace is when your second half is run faster than the first half of the race. For instance, when you run a 10k race with the first 5K at 30 minutes 8 seconds (30:08) and the second 5K at 29 minutes 52 seconds (29:52) for a finishing time of 60 minutes. The second 5K is faster than the first 5K which is the result of a negative split pacing strategy.
However, running negative splits on race day can get a bit complicated. But the fact is, it is the best way to run faster. Usually, it takes about 1 mile to warm yourself up and lubricate your joints. When the performance-boosting hormones begin to fire, your lubricated and well-primed muscles work at their full capacity. This will help you to run with greater ease by making yourself 'bonk-proof'.
In other words, you're not running at 100% effort for the first part of your race. You might be running between 70 and 80% perceived effort for the first half of your race. Once you reach the halfway point, you start revving up more output and kick up your effort to 90 to 100%. Since you took it easier in the first half you'll have extra strength and energy stored to push to peak performance. However, without proper training, this could be nothing but a nosedive halfway through the race.
Positive Splits
On the other hand, when you run positive splits, (i.e. your first half is faster than the second half), your body doesn't get enough opportunity to warm itself up. In such a scenario, you aren't allowing your joints to open up and your hormones aren't firing yet. Situations like this lead to bonking which is caused by emptying your glycogen stores too early and draining most of your energy as the finish line draws nearer.
Positive Splits Should Be Used With Care
Most elite runners that are world record runners do not use positive splits. Empirical data shows that nearly every type of runner benefits from the negative split and not the positive split. The only time an elite runner would want to run positive splits is because of a lot of hills in the first part of a race.
What Is A Progression Run?
Progression runs are important for runners who want to use a negative split pacing strategy. The progression run is simple in concept. You start off running at a slow pace, increase your speed as you go, and finish at a faster pace.
When a progression run is performed correctly, it can offer you the most effective training boost with less stress inflicted on your body. You can perform progression run workouts to train and test your strength between your other weekly running sessions.
Progression runs begin at slow speeds and end at faster speeds – the same strategy as the negative splits. Progression runs teach you to lay more emphasis on the second half of your run. Hence, you prepare yourself for a speed jolt in the second half which in turn leads to a faster and quicker finish.
Here is an example of a paced 10-mile progression workout:
Mile 1: 9:45 pace
Mile 2: 9:40 pace
Mile 3: 9:35 pace
Mile 4: 9:30 pace
Mile 5: 9:25 pace
Mile 6: 9:15 to pace
Mile 7: 9:05 pace
Mile 8: 8:55 pace
Mile 9: 8:30 pace
Mile 10: 8:10 pace
As you can see, the pace is slower during the beginning and it speeds up progress towards the end of the workout.
How to Run Negative splits?
The first thing you need to determine is the pace your aiming for (i.e. Half Marathon Race Pace) or simply a pace you can maintain. For the first few miles, focus on conserving your energy and try to run 10-20 seconds slower than your pace and gradually increase your goal pace further in the middle third. When you hit the final order of the race, use the energy you have conserved in the first order and run as fast as you can. Increase your goal pace by 10-25 seconds.
This pacing approach allows your body to get molded in the racing scenario. You will warm up until you feel comfortable increasing your pace.
Moreover, the more time you spend practicing your training, the better off you will be on the race day. The main goal is to estimate your finishing time and maintain consistency. Once you've calculated your desired speed, you will be able to finish stronger and faster.
Practice Negative Splits With Interval Training
The ideal way to practice negative splits is by following an interval-based workout strategy. For instance, if you're training for a 10 K then, you can practice 10 x 800m at your desired pace along with a one-minute break after each interval.
Example 1: 10 x 800m x 1-minute rest break (4-4-2)
Intervals 1-4 (run 4-5 seconds slower than your goal pace)
Intervals 5-8 (run at your goal pace)
Intervals 9-10 (run at 4-5 seconds faster than your goal pace)
Example 2: 10 x 800m x 1-minute rest break (3-3-4)
Intervals 1-3 (run 4-5 seconds slower than your goal pace)
Intervals 4-6 (run at your goal pace)
Intervals 7-10 (run at 4-5 seconds faster than your goal pace)
For the first four rest breaks, run about 4-5 sec slower than your goal pace. Then, for the next four intervals, run at your goal pace ann finally try to run at least 5 seconds faster than your goal pace. Moreover, always try to run your fastest at the last 2 rest breaks. This type of practice strategy can be used for intervals as well.
As a rule of thumb, your amount of practice will decide your pace and ease of running. By following the above-mentioned approach, you will be able to prep and prime your body in a much better way.
These workouts will also help you to determine your best pace. You can have a better view of the pace you can maintain for different distances.
Half Marathon Negative Split Training Tips
Practicing is key!
Just like everything else, for running negative splits on your race-day, you will need a lot of training. It doesn't matter what distance you're going to run on race day, you have to train yourself in the right manner. Negative split training is enduring and you need to fortify your mind and body by practicing these progression runs or interval training sessions. These tips will help you to improve your pacing strategy and build confidence for your race day.
Tip #1: Negative Split Easy Runs
Easy runs should always be negative splits. Always start steady and allow your joints to lubricate and your body to warm up well. After 1-2 miles, you can adjust up to your goal pace.
If you're an experienced runner, you can easily run the last few miles of easy runs without making any effort. Even if you are not an advanced runner, with a little effort you can go for easy runs in the last 1-1.5 miles. This method will make sure you negatively split the race and your mind will be trained to finish the race at a faster speed.
Tip #2 Always start your easy runs off slower than the easy run finishing pace
If you end up running at a slower pace than you started out with, you didn't perform a negative split and your mission wasn't accomplished. Don't beat yourself up over it. Get some sleep. Come back out and try it again on your next progression run.
Tip #3: Negative Split Structured Workouts
As we already discussed, the most effective way of practicing the negative splits is by following a structured interval-based workout. Alternatively, you can follow a constant speed workout, which means you must maintain the same pace for all the intervals.
This strategy helps you to prepare yourself for running harder even when you're fatigued. This is what happens at the end of a negative split race.
By simulating your body under duress, fatigue, and stress you can fortify your mind by practicing these conditions during training.
This was about the main training tips for your goal race. Let's face it, running on the final day of the event is much different than the practice and training sessions. The mental and physical pressure is also a matter of concern other than the pacing strategy. To help with it, here are some useful racing tips for you.
Tip #4: Set Your Finish Time
Running a negative split without setting a goal is unachievable. If you don't have an estimate of the finish time, then you will not be able to maintain the right pace. Therefore, it is very important to set your finish time. For instance, if you're running a 10k race and your time estimate is 50 minutes then complete the first half in more or less 25 minutes. This will be comfortable for you to take advantage of your performance boosting hormones in the last few miles for finishing the run.
Tip #5: Confidence Is King
You've heard the vast majority of runners say this is one form or another:
"running is both equally a mental sport and a physical sport, sometimes the mental is tougher than the physical."
Negative splits are not that easy. You must deal with the challenges – there is no shortcut for it. But remember the fact that this strategy is the reason behind the world records, so it is the right way!
To achieve this, you must be confident throughout the race. You cannot afford to drop your confidence level. You must run faster even when you're tired in the end.
Just believe in yourself and your level of fitness, you will finish.
Tip #6: At the halfway point you have a choice
If all else fails during the first half of the race you can continue with your slower pace and end up running an even split race.
Tip #7: Watch the elapsed time more than your pace
In the picture example below, the pink column (total elapsed time) is showing you what time you should be hitting at what mile (overall). For example, at mile 7 you should be at 1:05:10 to be on track to finish your half marathon at the 2:00 hour mark using this negative split pacing strategy.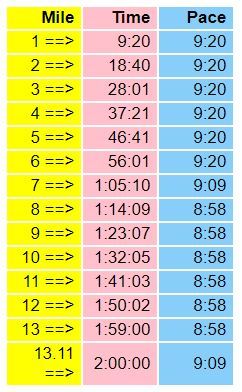 Have you ever wondered why people have these temporary tattoos on their bodies? This is to reiterate that it's not about the pace but the actual total elapsed time at each mile marker.
Negative Splits on Race Day
Negative splits are the best when it comes to the racing scenarios. It doesn't matter what kind of race you're training for, negative splits help in all situations. This pacing strategy is recommended by me as well as other top coaches and is a major reason behind more recent world records. Start practicing negative splits for your half marathon and you will surely achieve your goals and will set a crushing PR and maybe even score a shiny medal!
Do you want to tinker with your own negative/positive or even splits, click here to go to RRCA certified coach Alan Rider's website?
To sign up for a FREE half marathon training schedule, log sheet, and pace predictor CLICK HERE.

Connect with me: