[social_warfare]
Long Run Struggles – Habits
We all know what a routine is. Getting up in the morning consists of fairly identical tasks you perform every day. Of course there will always be slight variations in your morning, but for the most part, it's consistent. In order to successfully complete a half marathon or other long-distance training goal, you have to create a new habit and have a checks and balances system to make sure you stay on top of the habit. To get your new training habit off on the right foot, we need to look at three things that can help you during your long run sessions. Changing how you think of exercise,  having a good support system, and having a checks and balances system will help you stay on track to crush your long distance goals.
You No Longer Exercise – You Train!
To simply complete a 5K or 10K race, it requires little or no training at all. When you switch to half marathon races and beyond simply throwing on your running shoes and running 3 miles a day won't cut it. Some of you might be wincing a little bit, but hear me out. What you read and what you think and how you process all the data that gets absorbed by your brain every day determines your outcome. You know the old saying, "you are what you eat," well this is exactly the point. Changing your thought process from exercising to training is a simple but powerful concept. When you exercise you are primarily worried about the outcome of one session. When you exchange exercise for training you are then concerned with not only the current run session but your overall goal. That goal is to complete your training for some type of long distance race such as a half marathon. By using the word training, you're subconsciously telling yourself your running habit is for a much bigger goal. This helps bring your mind and perspective to a whole new level.
Support System
Training with a buddy or a running club can help support you during those times when you're not feeling like training. Training partners are great to help you get unstuck and moving when your legs feel like cement. A running club is also another great way to power through your lazy woes that may come about. If one member of the running club isn't helping with your motivation then you can hopefully find another member that can help. You can always get support through social media if your feeling like you need a boost of motivation. Although partners and social media are great to give you that extra kick to get going, you shouldn't always rely on other people for all of your motivation. You need to create a backup system so that you can push through longer runs with or without a partner. Creating an affirmation or mantra can help boost your motivation and put you in a correct frame of mind to accomplish your running goal for the day. This not only applies to running but to other aspects of your life. Here are a few that I have used while training:
I'm a runner
I'm training for a half marathon
Focus on the goal
Just one more mile
I will complete my training today.
I won't quit, I won't stop
You can use any variety of these or create your own. Also, having a playlist of music with your favorite songs to listen to while running can also help give you an extra boost when you're thinking about cutting your long runs short.
Checks and Balances
A training schedule is an essential road map to get you to the half marathon finish line. Keeping yourself accountable to your weekly training sessions requires dedication and resilience. A training schedule is only half of the solution. Keeping a daily training log of your weekly runs is the second half of the solution. Your training schedule and running log together create a checks and balances system. By Utilizing both together, they will help keep your running habits focused and aligned with your ultimate goal to finish a race. There are tons of smartphone apps that can help keep track of your runs. I prefer to physically write them down on a log sheet.
Putting it all together
So, if you are wanting to walk or run a half marathon you will need to tie all of these habits together. Here is a list of the things that you need to get ironed out before you begin your training:
Select a training plan (these range from 8 weeks to 20 weeks depending on your fitness level).
Select a race date.
Lock in your first day of training so you're ready to start.
Create affirmations or mantras (above).
Check your training requirements for the week and then for the day (habit forming).
Begin your first day of training (habit forming).
Log your run as soon as you're done with your running session (habit forming).
Repeat Steps 5-7 until you finish your race. (habit forming)
reflect on your log and training schedule at a minimum weekly to see if you're still on track.
If something comes up and you can't make a run then try to make it up. Your long run sessions are the training items that are the most important for long distance running. Try at all costs to make them up in full (or close to the mileage).
Having a running routine is essential to help you stay on track to finish a half marathon training cycle. Running, eating, rest, and recovery all have to do with your daily and weekly routines. If anyone of them is off it will affect the other moving parts of your running routine.
Click here to read – Long Run Struggles For Beginners (Part 1 of 4)
Click here to read – Long Run Struggles For Beginners (Part 3 of 4)
Book #5 in the series Beginner to Finisher, Long Run Hacks – New Release!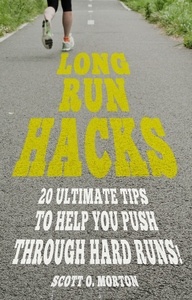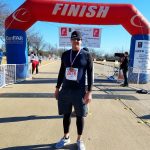 Scott Morton is the author of, Beginner's Guide to Half Marathons: A Simple Step-By-Step Solution to Get You to the Finish Line in 12 Weeks! (Beginner To Finisher Book 3) which has become an Amazon International #1 bestseller. To sign up for a FREE half marathon training schedule, log sheet, and pace predictor click here.
Beginner to Finisher Series:
Beginner to Finisher Series (5 books):
Why New Runners Fail: 26 Ultimate Tips You Should Know Before You Start Running!
5K Fury: 10 Proven Steps to Get You to the Finish Line in 9 weeks or less!
10K Titan: Push Beyond the 5K in 6 Weeks or Less!
Beginner's Guide to Half Marathons: A Simple Step-By-Step Solution to Get You to the Finish Line in 12 Weeks!
Long Run Hacks: 20 Ultimate Tips to Help You Push Through Hard Runs!
Follow me on Facebook and Twitter: