30 Day Running Challenge
UPDATE – 30 days – completed – 81.2 miles logged in 30 days!
I've been running for about 4 years now and I've never – not once – run consecutively for 30 days.
It was tougher than I thought.
Not necessarily the running, but the mental nagging from my inner critic.
Mental thoughts such as:
"Shouldn't I be resting today?"
"Is running every day going to cause an injury?"
"It would be nice to relax today, but I have to run."
"There's no way you're going to run for 30 days with no breaks – you're too old."
These are natural thoughts that most runners experience at any given time.
As a result of my challenge I determined these things:
You don't have to run hard every day to get results. In fact, performing hard running workouts every day might cause injuries.

This teaches you about resilience and its necessity in training for any run

Your mind can be tricked into doing things it doesn't want to do.

After 30 days of running, I actually want to take a break, but I think I'm going to go for another 30 days and see what happens.

I noticed after 30 days of running that I feel better throughout the day and have no problem going to sleep at night.
How did you do in your 30-day challenge?
Have you started your 30-day challenge?
Grab it here for FREE (No-Signup):
UPDATE – 15 days into my challenge – I'm at the halfway point!
15 days into my challenge and I've run a total of 15 days straight resulting in 41.5 miles so far! Here are my screenshots below. It's never too late to start. Grab your free 30-day template for free! No sign-up required. Click here to get your free 30-day challenge worksheet!
Trying to stay focused during these unprecedented times is a lot harder than it looks. We have all faced hardships, possible sickness, and possible unemployment, and other unfathomable losses.
Sometimes there doesn't seem to be an end in sight to the mandated "shelter in place." orders sweeping our countries, states, and neighborhoods.
The escalating totality of coronavirus cases is enough to make our head and world spin and leave you bummed out and sometimes almost numb to the world outside your home.
I'm right there with you, in the same situation, fortune to be spared at this time from any sign of infection.
Like leaders have been saying, "We're all in this together"
My productivity took a nosedive
So when the world is revolving at a normal pace, I juggle many things, family, work, a side-business, and all of those other let things that fill up the gaps in time during the day.
This last weekend I told myself enough is enough.
I wasn't going to let me monthly, weekly, and daily goals go to the wayside.
My Solution – 30 Day Challenge Template
Instead of creating a permanent 30-day challenge, I decided to leave each day blank. No instructions, no drills to run, no pressure.
Why? I wanted to give you a tool that was much more useful, one that you could create your own 30-day challenge goal.
You simply fill in your goal and then mark down each time you successfully met that challenge for a particular day.
Bonus: Multiple 30-day challenges all on one sheet of paper
If you're like me one goal is just not enough to tackle in 30 days. I wanted the ability to tackle four goals all at once within 30 days. I wanted it to be on one sheet of paper – done!
Best of all It's FREE – no signup
click here to download the 30-day challenge template.
30-day challenge Ideas
Run at least one mile every day
Read 1 hour every day
Lose 2 pounds a week (8 pounds a month) be careful. You need to alter your caloric intake or increase calories burned to lose the weight, click here for weight loss while running.
Exercise for 30 minutes each day
Run 3 miles every day
The list is endless and it doesn't have to be tied to health or exercise. I will post my completed challenge 30 days from now on this page.
Good luck and I hope this helps you regain some of your focus during these unprecedented times.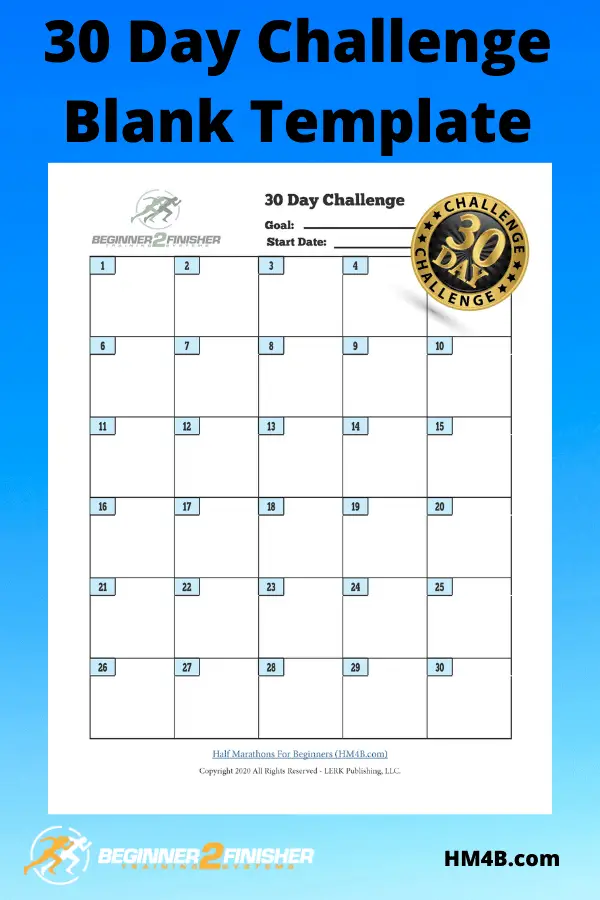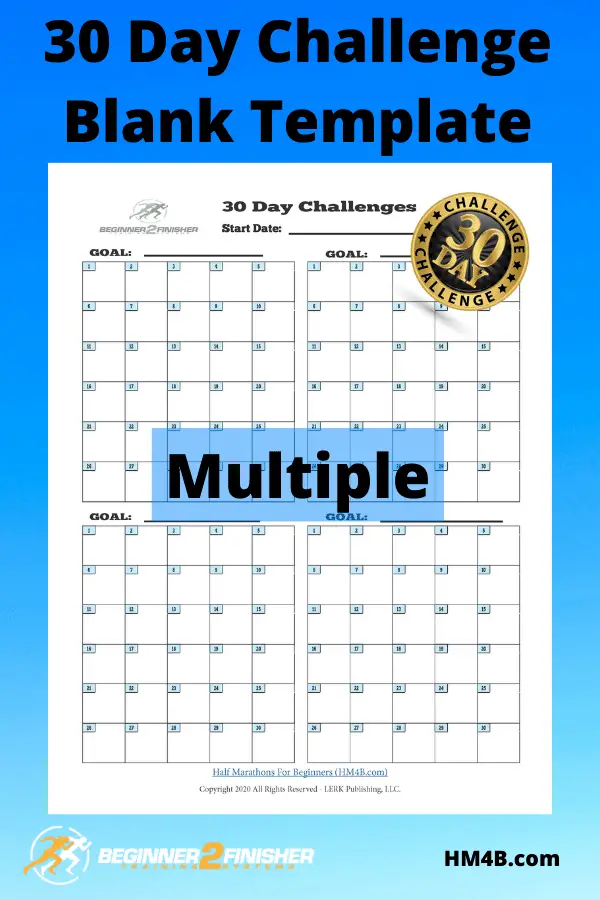 To sign up for a FREE half marathon training schedule, log sheet, and pace predictor CLICK HERE.

Connect with me: